Administrative Leadership
About Leadership - Kara Ramirez Mullins
Kara Ramirez Mullins
Vice President for Advancement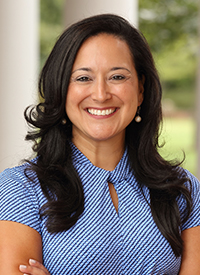 Kara Ramirez Mullins (TEP '18) serves as the vice president for Advancement at the University of Virginia Darden School of Business. She joined Darden in January 2016 to provide strategic oversight of the School's multimillion dollar philanthropic and fundraising efforts. In her tenure, Mullins has served as a senior member of the Darden Enterprise Team while leading four of the most successful fundraising years in the School's history. In addition to facilitating more than $100 million in gifts and matches, she has readied Darden for the School's upcoming major capital campaign to publicly launch in 2019 and has completed strategic planning for Darden in alignment with UVA's Honor the Future Campaign. Beyond the campaign, Mullins is focused on expanding the endowed and operating funds for Darden and overseeing leadership giving by the board of trustees and all four advisory boards.
Mullins has served in leadership roles in fundraising for more than 20 years. Prior to Darden, she served as associate vice president for Institutional Advancement at the Brookings Institution in Washington, D.C. Mullins joined Brookings in 2012 to manage and direct a portfolio of high-level institutional donors for the think tank's $600 million Second Century Campaign. Beyond campaign management, she implemented and led a rapidly growing frontline fundraising team and oversaw annual and major giving for the Institution. Preceding Brookings, Mullins served as the director of development at The Phillips Collection, where she managed all development operations and launched the silent phase of a $40 million endowment campaign. Prior to that, she spent a decade in the development office at the National Gallery of Art, working closely with high net-worth individuals and board members in her tenure.
Before Charlottesville and Washington, D.C., Mullins lived in New York and worked in the corporate office of Gucci America Inc. She earned her bachelor's degree from Marymount University and completed graduate work at Georgetown University. In June 2018, Mullins graduated from The Executive Program at the Darden School of Business.