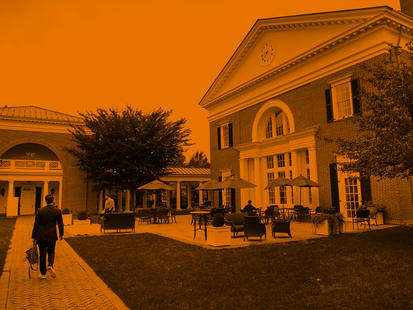 About Darden
About Darden - Return to Darden Grounds
Coronavirus Information and School Operations
UVA Darden continues to welcome students, lifelong learners, faculty and staff back to its Grounds — in both Charlottesville and at UVA Darden DC Metro in Rosslyn, Virginia. For non-degree Executive Education & Lifelong Learning programs, Darden is pleased to present an expanded virtual portfolio, as well as in-person programs.
UVA and Darden plan to return to in-person instruction and more normal operations in fall 2021. 
On this website, you will find the latest plans, information and resources to ensure a safe return to Grounds. Please check this site regularly, as information may change based on the spread of the virus, the advice of public health experts or an order by the Commonwealth of Virginia.
Visit the UVA COVID Tracker to track public health information and key metrics about the virus. This tracker is updated daily and is intended to provide students, staff, faculty, parents and community with up to date information from the University of Virginia.
Our top priority is to keep our community safe while upholding our mission and values.
COVID-19 Working Group

Leader:
Marc Johnson

Members:
Kush Arora
Scott Beardsley
Dawna Clarke
Shaele Culbreath
Julie Daum
David Drab
Rachel Dudzik
Eric Fletcher
Yael Gruskha-Cockayne
Whitney Kestner
Anton Korinek
Dean Krehmeyer
Jeanne Liedtka
Laura Hennessey Martens
Joanne Meier
Marc Modica
Larry Mueller
Larry Murphy
Kristen Pappas
Tom Steenburgh
Callie Thompson
Jarrod Tibbs
Ed Warwick
Ron Wilcox
Ashley Williams

Safe Return to Grounds Committee

Leaders:
David Drab, project manager
Laura Hennessey Martens, project leader

Members:

Bob Conroy
Rachel Dudzik
Sarah Elliott
Mary Margaret Frank
Jennifer Hicks
Anton Korinek
Paul Matherne
Marc Modica
Callie Thompson
Elliott Weiss

Policies and Protocols Subcommittee:

Eric Fletcher, leader
Georgia Meyer, leader
Mary Jones
Gayle Mapstone

Workforce Preparation and HR Policies Subcommittee

Gayle Mapstone, leader
Mary Jones, leader
Tomiwa Afolabi
Renee Bush
Georgia Meyer
Karen Morris
Gayle Noble
Meaghan Patrick
Shea Rainey
Debbie White

Facilities, Signage and Spaces Subcommittee

Rachel Dudzik, leader
Alex Lungi, leader
Susan Wormington, leader
John Allen
Tyla Gallegos
Julia Grammer
Charles Heilman
Gini Porter

Culture and Connectivity Subcommittee

Lili Powell, leader
Barbara Millar, leader
Ladi Carr
Shaele Culbreath
Tess Engebretson
Marc Paulo Guzman
Christie Julien
Shashie Morton
Allison Price
Elliott Weiss

Food, Beverage and Hospitality Subcommittee

Larry Murphy, leader
Tom Cappucci
Alex Lungi

Health and Safety Subcommittee

Anton Korinek, leader
Paul Matherne, leader
Madeleine Hicks
Tom Marini
John Nolan