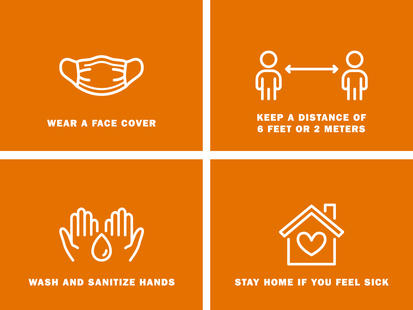 Coronavirus Information and School Operations
About - Return to Grounds - Health, Safety and Community of Care
Health, Safety and Community of Care
Every student, faculty and staff member who will be on Grounds this fall will have to meet certain health and safety requirements designed to keep members of the Darden, UVA and broader community safe. Darden's health and safety guidelines are recommended by the Centers for Disease Control and Prevention, the Commonwealth of Virginia and the University of Virginia.
Here are "The Big Four" guidelines: 
Wear a face covering.

Keep a social distance of six feet or two meters.

Wash and sanitize your hands.

Stay home if you feel sick.
Darden's Culture of Mutual Care and Concern
The Darden Culture and Connectivity Committee, led by Professors Lili Powell and Barbara Millar, was formed with a mission to maintain and enhance Darden's culture, connectivity and resilience during and after the coronavirus pandemic. The committee asks the entire Darden community to join it in this mission and to ensure all members of the community feel connected. Every person at Darden should feel like they matter, and to accomplish this the committee welcomes ideas that:
Foster relationships
Promote inclusion and equity
Create mutual support and respect
Enhance transparent and clear communication
Health and Safety at Darden
Health and safety are paramount as the Darden community navigates the challenges presented by COVID-19 this fall. First and foremost, all members of the community should follow "The Big Four" health and safety guidelines. 
As the community returns to Grounds in Charlottesville and Rosslyn, Darden seeks to create a culture of mutual care and concern. It will take the efforts of us all to protect the health of community members. While some individuals may be at lower risk from the virus, we must act in ways that ensure the health of all members of our community and the community around us. A healthier and safer environment resulting from careful behavior will increase the likelihood we can maintain or expand the range of in-person instruction and activity. The inverse is also true.
While we know we will never be able to eliminate all risk, Darden is developing stringent protocols and practices to mitigate health risk as much as possible. Darden's Safe Return to Grounds Committee is focused on ensuring that the School remains open safely throughout the academic year. The group is developing detailed health and safety protocols for Darden in line with UVA policy and guidance. Below, please read the latest health protocols and planning for Darden developed by the Safe Return to Grounds Committee, and read UVA's guidance on measures being taken to ensure public health. 
Visit the UVA COVID Tracker to track public health information and key metrics about the virus. This tracker is updated daily and is intended to provide students, staff, faculty, parents and community with up to date information from the University of Virginia.
Health and Safety Details

Government and Health Resources
Stay informed of the latest updates from health officials.