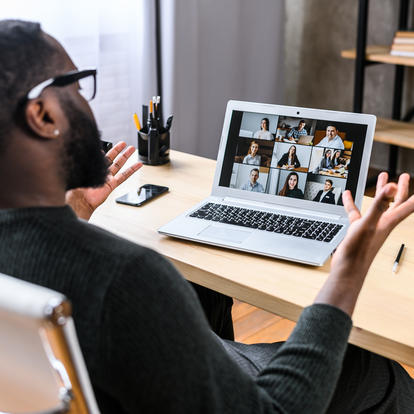 Live Virtual Course
Leading Virtual Teams Through Disruption
Lead a change-resilient team that excels in the face of disruption and build meaningful connections that foster collaboration in a virtual setting.
Overview
Whether your organization is adapting to a new virtual work environment, or has remote teams collaborating around the world, the need has never been greater for leaders who can effectively engage with their teams and bring out the best in their people from a distance. In this new virtual program, you'll learn how to leverage technology to develop the behaviors required in your team to pivot to address dynamic market demands, effect meaningful change across stakeholder groups, and develop new ways to connect virtually to build camaraderie and trust.
This virtually-hosted program will feature live sessions with faculty on Mondays & Wednesdays from 1-2:15pm EDT.
Intended For
Team Leader, Senior Management
Location
Length
4 weeks, 2 sessions per week w/ additional online work
Led by Professor Lynn Isabella, an expert in leadership, coaching, and team engagement, Leading Virtual Teams Through Disruption will explore the emotional and productivity challenges of working virtually, how you can increase team resilience during challenging times, how to manage differences and conflict, and how you can use technology to your advantage to help your team stay connected and informed, so that everyone still feels they are a valued contributor to the team and organization. You'll have an opportunity to put your insights into practice while interacting virtually with your cohort and with your own team, getting real-time feedback on your challenges and progress.
Topics include:
Fostering high-performance virtual teams
Effective communication and collaboration
Exploring differences and managing conflict
Addressing emotional and social needs
Benefits and challenges of technology in team productivity
This program features 2-3 live virtual sessions per week, with additional online work and exercises.
Impact & Outcomes
Foster a positive virtual environment to encourage engagement
Leverage technology to improve flow of communication and increase efficiency
Understand cultural and ideological differences between team members and how to ensure everyone has a voice
Understand the emotional state of your team and address concerns with care and authenticity
Create opportunities to socialize outside of work-related conversations, building rapport and trust
Participants
This program is designed for:
Executives and leaders responsible for managing change or organization-wide performance.
Mid-to-senior level project, unit or division managers.
Any manager or leader who leads a remote team.
Certificates
This program counts as one credit toward a Darden Certificate in Leadership. Complete this program and earn three additional credits for a total of four credits within a four-year period to earn your certificate.
Faculty
Location
The program is conducted entirely online through live Zoom sessions and on-demand assignments and exercises.
Request a Consultation
Please complete the following to submit a request for consultation about this program or to discuss your development needs.