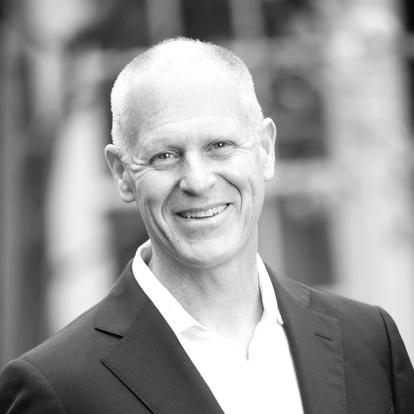 Thomas J. Steenburgh
Richard S. Reynolds Professor of Business Administration
Senior Associate Dean for the Residential MBA Program
Office
FOB 299D
Phone
Email
Academic Area
Areas of Expertise
Business-to-Business Marketing and Sales
Education:  B.S., Boston University; M.A., University of Michigan; Ph.D., Yale University
Tom Steenburgh holds the Richard S. Reynolds Professorship in Business Administration at the the University of Virginia Darden School of Business. He also serves the School as senior associate dean for faculty development. He is the course head for the First Year Marketing course in the MBA program and is the faculty chair for Strategic Sales Management program in Executive Education. Prior to joining Darden, he taught at the Harvard Business School, where he was the faculty chair of the Business-to-Business Marketing Strategy program in Executive Education.
Steenburgh is an expert in business-to-business marketing and sales, and he believes that academics should engage with business leaders to solve real-world problems. He co-founded the Thought Leadership on the Sales Profession Conference, which provides a unique opportunity for leading academics and senior business leaders to discuss current issues in sales. He frequently speaks about his research at companies and in public forums, including the Global Siemens One Conference, the Money Management Institute, the Sales Management Association, and the Strategic Accounts Management Association.
His research analyzes the effectiveness of sales and marketing strategies. He has worked on issues such as "Do lump-sum bonuses motivate salespeople to work harder or to play timing games with their orders?" and "Should firms use sales and marketing actions to manage earnings?" Steenburgh's research has won several awards for its influence on business practice. His Harvard Business Review article "Motivating Salespeople: What Really Works" won the Wachovia Award for Research Aimed at the Practicing Manager. He also won the Neil Rackham Research Dissemination Award for the broad impact of his sales research.
Steenburgh is the author of numerous case studies that are taught in leading business schools around the world. This work primarily focuses on managerial issues in professional selling and sales force management. His case study on Hubspot is part of the HBS Premiere Case Collection and his study on EMC has been reprinted in textbooks.
Steenburgh holds a master's degree in statistics from the University of Michigan and a Ph.D. in marketing from Yale University. Before returning to academics, he held several positions in marketing and operations at the Xerox Corporation. His last position was in incentive strategy.
Thomas J. Steenburgh's Ideas to Action Posts
Business, Ethics & Society
Selected Publications
"How to Sell New Products," with Mike Ahearne (forthcoming in the Harvard Business Review).
"Personal and Social Usage: The Origins of Active Customers and Ways to Keep Them Engaged," with Clarence Lee and Elie Ofek, Management Science(June 2018).
"Real Earnings Management in Sales," with Craig J. Chapman, Jeffrey P. Boichuk, and Michael J. Ahearne, Journal of Accounting Research(December 2016).
Lui, Qiang, Thomas Steenburgh, and Sachin Gupta. "The Cross Attributes Flexible Substitution Logic:  Uncovering Category Expansion and Share Impacts of Marketing Instruments." Marketing Science (January-February 2015).
Doug Chung, Thomas Steenburgh and K. Sudhir. "Do Bonuses Enhance Sales Productivity? A Dynamic Structural Analysis of Bonus-Based Compensation Plans," Marketing Science(March-April 2014). 
Doug Chung, Thomas Steenburgh and K. Sudhir "Motivating Diverse Salespeople through a Common Incentive Plan," The European Financial Review (October-November 2013). 
Steenburgh, Thomas and Jill Avery. "Target the Right Market," Harvard Business Review (October 2012).
Steenburgh, Thomas and Michael Ahearne. "Motivating Salespeople: What Really Works." Harvard Business Review (July-August 2012).
"Adding Bricks to Clicks: Predicting the Patterns of Cross-Channel Elasticities over Time," with Jill Avery, John Deighton, and Mary Caravella, Journal of Marketing(May 2012).
Craig J. Chapman, and  Thomas Steenburgh. "An Investigation of Earnings Management Through Marketing Actions." Management Science(January 2011).
Case Studies
Advancing knowledge through research that shapes business, Darden professors are recognized thought leaders in their fields. They are not only master case method teachers, they also author many of the cases used in Darden classrooms and around the world.
Thomas J. Steenburgh's cases are available in the Darden Business Publishing website.