University of Virginia Darden School of Business - MBA, EMBA, Executive Education, MSBA
Put Your Why to Work
Modern leadership is about value creation. At Darden, you'll experience it from within a Top 10 business school. We offer students the opportunity to lead by purpose, to create genuine value that transforms society. At Darden, your why is our why.
Preparing Critical Thinkers
Darden's rigorous, purpose-driven education simulates the performance pressures of modern business, developing innovative leaders who not only navigate change — they spark it.
70+ Guides, Conveners and Catalysts
Routinely recognized as the best in the world, Darden's faculty creates a spontaneous yet deliberate culture of thoughtful debate across every program. By connecting learners' perspectives and purpose with the quickly changing business landscape, our professors demonstrate that collaborative advantage is competitive advantage.
Ed Freeman is a pioneer of the stakeholder theory and a champion of business ethics and executive leadership. He's also an interesting guy with an unconventional approach. 
Lalin Anik is on a mission to understand social connection and designs social interventions that help employees, consumers and communities lead happier, healthier and more productive lives.
Ed Hess is a leading thinker on the future of work and human excellence in the smart machine age. Author of 12 books, 100+ practitioner articles and 60+ Darden cases, he shares ideas you won't find anywhere else.
Jeanne Liedtka is an organizational sage and trailblazer of design thinking, a problem-solving technique that's transforming companies, nonprofits and government agencies. 
Martin Davidson changes how executives across the globe leverage the diversity and difference in their organizations and encourages all to embrace the weird.
Think About It
Darden spearheads the conversation around the foremost matters of industry, regularly publishing news, research, analysis and thought leadership. See what's capturing our imagination.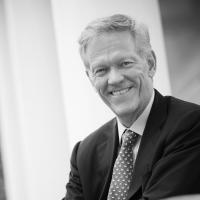 "At Darden we look at not just ROI, but R-O-WHY. Why are you doing what you are doing? Mission matters — and leaders powered by purpose will deliver meaningful impact and the best business results."
Scott C. Beardsley
Dean and Charles C. Abbott Professor of Business Administration
Teamwork Makes a Network.
Our 16,000+ alumni and 900+ degree-seeking students define themselves by their Darden roots and famously return the calls of any colleague who rings. We look forward to connecting.
Powered by Purpose
Purpose. It's the foundation for what we believe and the bedrock beneath Darden's historically ambitious fundraising campaign — Powered by Purpose. Support unparalleled investments in faculty, scholarships, the Darden Grounds and the annual fund to power transformational experiences that develop tomorrow's purpose-driven leaders.