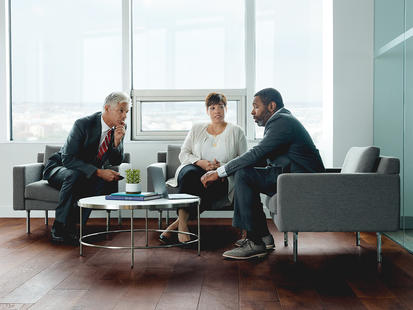 EELL For Organizations
Solutions For Organizations
Partner with Darden to design learning solutions with measurable results and positive impact on your bottom line.
Custom and Group Solutions that Get Results
Darden delivers award-winning custom solutions for some of the world's leading organizations. Our world-class faculty set us apart, offering a high-touch, collaborative approach to program design and delivery rooted in industry expertise.
Darden's client partners have included leading organizations in three sectors: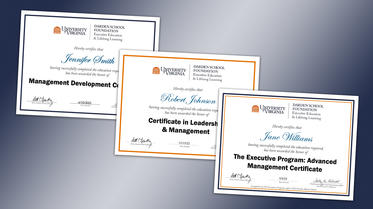 Credentials for Every Level
Darden's noncredit certificate tracks provide opportunities for managers and leaders at every level to build their skills, expand their perspectives and lead your organization confidently toward your goals.
We can also work with your organization to build a customized certificate track to meet your goals and build your teams' capabilities.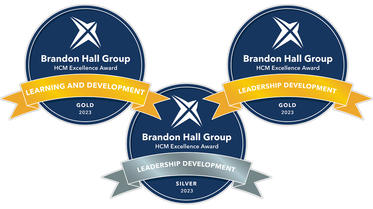 Award Winning Partnerships
For the third year in a row, our custom programming has been recognized for excellence in the annual Brandon Hall Group Human Capital Management Excellence Awards – receiving two gold awards and one silver for the Executive IQ program. Sponsored by Money Management Institute (MMI) and led in collaboration with educational partners at Microsoft and PwC, Executive IQ is an executive-level professional accelerator for leaders in the investment services industry, designed to transform experienced decision-makers into innovators who adapt to industry disruption and challenges to find new opportunities, grow their organizations and build high-level networks.
For us, lifelong learning has never been more important. We not only need to learn faster than our competitors, we also need to sometimes unlearn faster than our competitors. The thing we're most excited about [partnering with Darden] is the potential for our people to apply these concepts and tools to things that matter to our customers, to our shareholders and to our associates.

 
Justin Holland
Senior Director, Danaher Corp.
Why Darden?
We partner with your organization to create a customized development solution that will equip your leaders and teams with the knowledge, skills and purpose to address current challenges and guide your business forward in a changing world. Discover how our faculty, experience and expertise, and approach set us apart.
Princeton Review 2017-20, Financial Times, 2014-18
#
1
Education Experience in the U.S.
The Economist, 2011-19
Learn From Anywhere
Our customizable format allows you to choose which location is most convenient for your organization.
Welcome to The Forum Hotel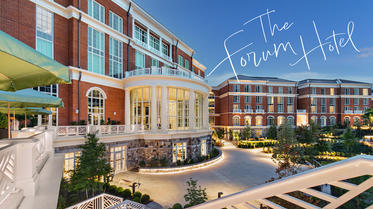 Located on the University of Virginia's verdant North Grounds, The Forum Hotel — operated by Kimpton Hotels & Restaurants — offers opportunities to connect, reflect and learn together throughout the boutique property. Anchored by a beautiful five-acre arboretum and botanical gardens with outdoor learning and reflection spaces, as well as state-of-the-art indoor classroom and event spaces, The Forum Hotel is the new home for Executive Education & Lifelong Learning programming and participant lodging.
We chose Darden Executive Education because of their willingness to listen to our vision and truly partner to design a customized learning journey. This, combined with their top-ranked teaching faculty, helped us design a program to educate today's financial services leaders for tomorrow's opportunities.
Tim Williams
Senior Vice President, Director of Education Initiatives, The Money Management Institute
Start a Conversation
Tell us about the challenges your organization is facing or the development needs you are trying to address. Complete the form below and our Client Solutions team will reach out to discuss your needs and goals, and help you plan the next step for your organization.