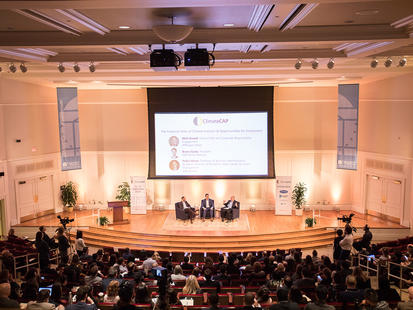 Faculty & Research - Centers & Initiatives
Centers & Initiatives
Darden's research centers and initiatives build a community of experts to advance knowledge, offer student experiences and convene forums with academics and executives to advance business practice.
Areas of focus include corporate ethics, sustainability, water management, entrepreneurship and innovation, education, asset management, behavioral science and global community.
Centers & Institutes
Darden hosts a number of centers and institutes that support the core research and teaching objectives of the school. Our centers and institutes address broad and enduring issues in business and society, collectively stewarding a robust pool of resources that serve the diverse needs of our faculty and students, including direct and ongoing engagement with the world of practice and policy.
Initiatives
Darden's initiatives represent topical areas of focus that are critically important to leaders, businesses and organizations. Typically our initiatives, have a strong research orientation, intersect with several scholarly disciplines, centers and institutes at the school. Topical initiatives may be temporal in nature, although some may evolve over time demonstrating sustained impact for faculty, students and business at large.
Research Support
Darden maintains a comprehensive portfolio of services that support the research interests of our faculty. Some of these resources are housed within our centers and institutes, whereas others are permanent, stand-alone units that offer specific, functional research capabilities.