Hybrid Program
The Executive Program: Strategic Leadership at the Top
For senior leaders with 12 or more years of management experience, our flagship executive program will inspire you to embrace global perspectives and new strategic insights.
Overview
Today's executives face challenges and opportunities that extend beyond the enterprise — across industries and around the world. Confronting the challenges and embracing these opportunities require more than training and expertise. It requires a strategic perspective, informed judgment and a global vision for what's possible. Join Darden for an advanced management experience like no other, a complete immersion into the principles, habits and perspectives of transformational leaders that will provide a higher view for how you lead your organization in today's complex, ever-changing world.
In-Person Immersion Module #1: 31 May–12 June 2020 (Charlottesville location)
In-Person Immersion Module #2: 30 November–12 December 2020 (Charlottesville & Darden DC Metro locations)
Virtual intersession modules will be hosted before and between the in-person modules.
Intended For
Executive, C-Suite
Focus
Comprehensive, Innovation, Leadership
Format
Hybrid Program
Features both digital and in-person sessions
Location
Charlottesville, VA
Washington, D.C., Area
Online
Length
Two 2-week modules, virtual intersession modules
Program Overview
To meet the evolving needs of today's executives, TEP's intensive six-month learning journey features virtual learning and in-person modules, extending the learning journey to provide support and guidance as you gain powerful global perspectives and implement new, strategic insights to drive growth for your organization. And your in-person modules will include sessions, workshops and guest speakers at Darden's locations in Charlottesville, VA and the Washington, D.C., area.
Your TEP experience will be a shared one, connecting with engaged faculty as well as senior executives from diverse industries around the world. Our proven experiential approach focuses on the whole leader to discover what inspires and drives you from the inside out and beyond.
Engage with faculty and members of your learning team throughout the program to discuss and explore personalized new possibilities for yourself and your organization
Analyze real-life business situations and become a better leader by asking the right questions, thinking strategically and offering solutions-sharpened by the perspective of colleagues and their executive leadership experience.
Apply new concepts to your current position and identify a personal or organizational challenge for which you'll develop a customized plan of action to launch upon your return.
Engage in enrichment activities and workshops chosen by you and your peers. You'll expand on classroom concepts with topics like design thinking, financial management, entrepreneurship, or government and politics.
Improve your peak performance through a stamina-building wellness program that includes cognitive fitness best practices, structured exercise opportunities, and a personalized wellness profile with risk ratings and recommendations for health improvement, so you can ensure that your physical, mental and psychological strengths serve you well during the program and the rest of your life.
PROGRAM FORMAT
TEP's extended learning journey includes both virtual and residential modules:
Opening Online Module - Meet the TEP faculty, share your personal and organizational challenges and goals, and prepare for your TEP experience
In-Person Immersive Module #1 - Hosted at Darden's location in Charlottesville
In-Person Immersive Module #2 - Hosted at Darden's locations in both Charlottesville and the Washington, D.C., area
Virtual Intersession Modules - Webinars, coaching sessions, group projects, etc. to help you implement new strategies and plans once you return to the office 
Impact & Outcomes
As a result of participating in this program, you will be able to:
More effectively lead from purpose, vision and values
Apply a strategic mindset to skillfully envision and communicate an enterprise strategy and desired future
Leverage an enterprise perspective to integrate across functions and foster a results orientation throughout the organization
Demonstrate a global orientation to decision making and systems thinking
Enhance your personal well-being by more effectively balancing mental and physical demands with organizational imperatives
"Rare opportunity to step out of your regular life to learn, reflect and engage with a diverse group of people on the importance and responsibilities of leadership and how to create value where it matters most."
Kristen Hege, CVP, Translational Development, Celgene
TEP '16
Participants
This program is designed for senior-level executives with more than twelve years of experience in significant management roles. Of the more than 4,000 executives who have graduated from this program, many represent Fortune 100 companies. Approximately 60% of TEP participants also have advanced degrees.
Executives in The Executive Program are selected for their outstanding leadership capabilities. As you share perspectives in the classroom, you will gain insights that will provide more breadth and depth to your own point of view.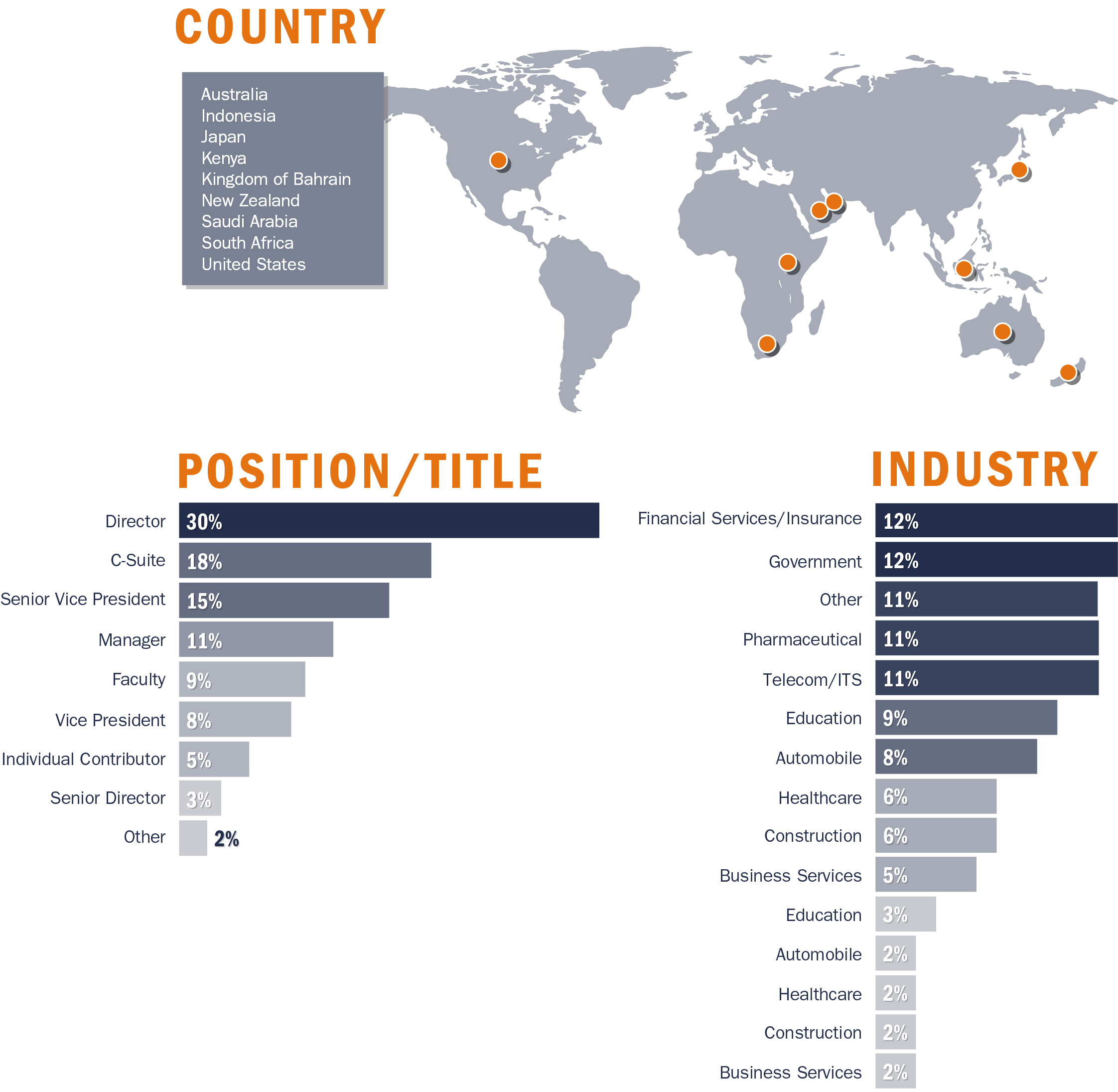 Faculty
Isidore Horween Research Associate Professor of Business Administration, Associate Dean for Washington, D.C., Area Initiatives and Academic Director of Public Policy and Entrepreneurship
Killgallon Ohio Art Professor of Business Administration, Senior Fellow, Olsson Center for Applied Ethics
MasterCard Professor of Business Administration, Senior Associate Dean for Faculty and Research
Jolene Bodily
Wellness Program Coordinator, Darden School , Health Risk Reduction Services Coordinator, UVA Health System
Alumni Benefits
In addition to networking with a diverse group of leaders during your TEP experience, TEP graduates are also connected to the 16,000+ Darden alumni in over 90 countries around the world. As such, you receive many of the same benefits, including:
Alumni Directory (alumni.darden.edu)
Lifetime Darden email address
Monthly webinars with faculty
Alumni chapter events around the world (excluding MBA alumni/admissions receptions)
Access to Darden's case collection
Alumni Career Services online toolkit
Alumni newsletters and messages from the School
Executive Education - 25% discount on short programs
The Darden Report magazine (bi-annually)
Locations
During the in-person modules of The Executive Program, you will have the opportunity to learn and explore at Darden's locations in Charlottesville and in the Washington, D.C., area:
Darden School of Business 
100 Darden Blvd. 
Charlottesville, Virginia 
Darden DC Metro    
1100 Wilson Boulevard    
Arlington, Virginia 
Accommodations & Transportation
Accommodations will be provided for all participants as part of your program fee.
During the in-person modules at UVA Darden in Charlottesville, participants will stay at:
Residence Inn Charlottesville Downtown
315 W Main St.
Charlottesville, VA 22903
Darden will also provide free daily shuttle service between the hotel and Darden Grounds throughout the course of the program.
During the in-person week at UVA Darden DC Metro, participants will stay at:
Hyatt Centric Arlington
1325 Wilson Boulevard
Arlington, Virginia, 22209 
Application Process & Tuition
Admission is by application only. 
Tuition is $39,950 and includes materials, meals and accommodations.
Participants represent a broad range of backgrounds - industries, geographic locations, organizational size and professional responsibilities are considered. Although the number of participants from any one organization may be limited, firms are encouraged to send more than one executive. Admission is based on consultation among the three parties concerned: the nominating company, the applicant and a committee of the TEP faculty that evaluates the candidate's application. Notice of confirmed admission to TEP will be sent as soon as the process is complete.
Application Procedures
A candidate's suitability should be discussed with one of our directors prior to internal company discussions and participant's application.
A company may request a reservation before nominating a specific applicant.
Nomination of a participant must be originated by the participant's organization.
Completed applications will be handled on a "first come" basis. 
Enrollment is limited. Early application is encouraged.
Once your application has been reviewed and upon acceptance into the program, a 25% deposit is required to secure your registration.
Request a Consult

Please complete the following to submit a request for consultation about this program or to discuss your development needs.

Download TEP Brochure

 Please complete the following to receive the program brochure.
Please complete the following to submit a request for consultation about this program or to discuss your development needs.
 Please complete the following to receive the program brochure.