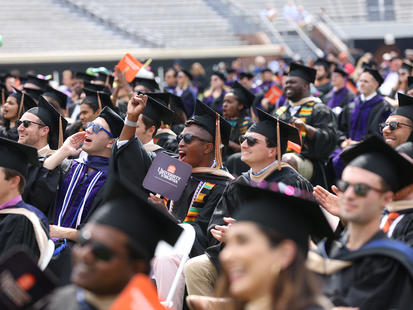 Graduation Events
Current Students - 2023 Graduation
2023 Graduation
Congratulations to the Darden Graduating Class of 2023! Graduation Ceremonies were held Sunday, 21 May.
Class of 2023 Final Exercises: Sunday, 21 May 2023
General Information
Graduation Day for the Darden MBA Class of 2023 was Sunday, 21 May.
Graduation Weekend began Friday, 19 May – Sunday, 21 May. For a complete schedule, please see the UVA Schedule of Events.
The UVA Major Events page provides the most current information regarding the 21 May event, including answers to frequently asked questions.
Each Graduate is allowed one(1) Parking Pass, six(6) Tickets for the Lawn Ceremony, and four(4) for the Darden Inclement Weather Ceremony.
Lawn Ceremony - Seating is available for Graduates and six(6) Guests. 
Only Guests with UVA Lawn Ceremony tickets will be permitted on The Lawn.
Guests without tickets will be directed to remote viewing sites (please see the Remote Viewing tab).
Please inform guests of UVA's Clear Bag Policy.
Darden Ceremony - No tickets are required for the Flagler Court Ceremony
* Please refer to the Inclement or Severe Weather tab for potential changes to seating and tickets.
Full-time MBA Caps and Gowns will be distributed into mailboxes located in front of the Office of Student Affairs.
Executive MBA Caps and Gowns will be distributed during LR2.
There are no extra Parking Passes or Tickets available.
Ticket and Parking Pass Distribution Information  -  Tickets and Parking Passes for the Residential Program will be available for pick up at the Student Information Desk outside the Office of Student Affairs from 8 am to 4 pm daily on May 17, 18, and 19.
Professional Degree Program Students may pick up their tickets at the Executive MBA Friends and Family Cookout on May 20.If you are unable to pick up your tickets please contact [email protected] to arrange for pick up on Sunday, 21 May.
Contact Rachel Dudzik at [email protected], prior to Final Exercises if disability accommodations are needed. For the Lawn ceremony please visit the UVA Finals website for information related to the Lawn.
The ceremonies may be viewed live at Darden in classrooms, in the Abbott Lounge, and online via this page during the event, our Youtube Channel or via Zoom meeting.
UVA Programs will be available at the Lawn, and Darden Programs will be available before the ceremony begins. 
A photographer will photograph each graduate receiving their scroll and will take a Class of 2023 photo in front of Saunders Hall after the Darden Ceremony.
Information on ordering prints will be emailed by Grad Images to Graduates once the photos are ready.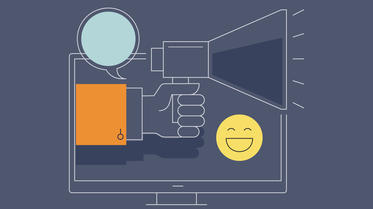 Kudos, Graduates!
View a special Kudoboard on which family, friends, and the Darden community have left well wishes, words of encouragement, and photos for the Class of 2023.