Two Years, Stamina and the Right Questions.
Full-Time MBA
Full-Time MBA
Darden MBAs dive headfirst into a rigorous core curriculum, matched only in its intensity by its career rewards. Through the case method, students learn by doing day in and day out — a Darden-specific approach that's earned plenty of decoration along the way, including being named the best business education experience in the U.S. by The Economist. Nine years in a row.
Transformational Experience
The Darden full-time MBA experience is uniquely transformative, delivering 21 months of unmatched access to more than 70 of the world's brightest business thought leaders.
Travel the World
With experiences delivered in 50 locations across two dozen countries and exchange programs in 18 cities, the Darden footprint spans the globe.
Prestigious Scholarships
Darden offers numerous full and partial tuition scholarships, including the Batten Scholars Program — now seeking top students with particular interests in entrepreneurship, innovation or technology.
Career Advancement
The average starting salary of new Darden full-time MBA grads ranked the third highest among U.S. business schools, according to U.S. News & World Report.
Education Experience nine consecutive years in the U.S. (The Economist)
average starting salary among U.S. business schools
How UVA Darden Is Creating a New Story of Business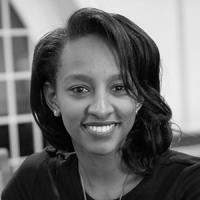 "Darden constantly challenges my understanding of the world, one 85-minute conversation with 67 classmates at a time. The diversity of thought in the classroom pushes me to always think about the third option when solving business problems — not just another solution, but a solution that encompasses practicality, ethics and involves as many stakeholders as possible."
Meti Aberra
(Class of 2020)
Let's Talk Business (School)
What makes the Darden MBA different? The intimate, face-to-face environment is one place to start. And it's why we'd love to tell you the rest in person.
Ask Us Anything
Still have questions about the Darden full-time MBA? Send a note to our Admissions office, and we'll get back to you as soon as possible.

Or, connect with our Student Ambassadors to learn about life at Darden from those who know it best.