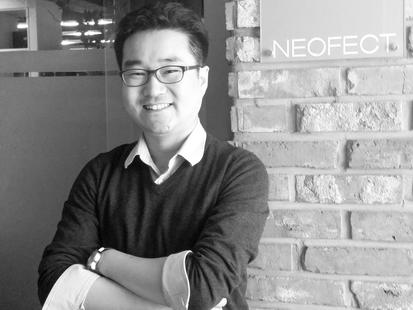 Hoyoung Ban
MBA '11, CEO, Neofect
The rehabilitation road back from a stroke or traumatic brain injury can be long and expensive.
The exercises and strengthening activities that can be critical to recovery are often tedious, repetitive and best practiced under the care of a medical professional. As a result, many patients simply never take full advantage of the help they need.
South Korean inventor Hoyoung Ban (MBA '11) saw the need for a better system in his home country firsthand, as the Darden graduate's father and two uncles all suffered strokes. His father passed away following the stroke while Ban was an undergraduate student at the Korea Advanced Institute of Science and Technology. In the case of his uncles, effective rehabilitation therapy proved financially infeasible due to high cost of care in South Korea.
With the help of a partner, Ban formed the company Neofect in Yongin, South Korea, just south of Seoul, and led a team that helped design and bring to market the Rapael Smart Glove, a wearable device that connects to various digital training programs for relatively low-cost, varied workouts.
A patient in a stroke rehab program might wear the glove while performing a task such as throwing a ball or pouring a glass of water — in real life or via simulated video. The Rapael system monitors the patient's abilities, analyzing and adjusting tasks that aim to improve the patient's "neuroplasticity."
The Web-connected device also records rehab session data for review by patient, caregiver or medical professional.
An engineer by training, Ban came to the University of Virginia Darden School of Business not long after founding Neofect with a desire to hone his management and operational skills following the dissolution of the Internet TV company he started to bring Korean television programming to Korean speakers living in the U.S..
"What I had to learn was general management skills and to build my knowledge for starting a company from scratch," Ban said. "Darden was the best choice for this. Studying various cases and discussing in class gave me a chance to experience the conditions of what could happen in the real world."
Ban said he applied lessons learned at his first company and at Darden when attempting to break into a new field. Critically, Ban said he and his cofounders attempted to keep a tighter grasp on technical development.
"The entire process, from founding to closing my IPTV service company, made me think again about the issues of starting a company," Ban said. "The biggest issue we faced was the lack of technical knowledge on the team, which leads to an excessive reliance on outsourcing project work."
When starting Neofect, Ban and his team made sure to have a core internal technical development team that could nimbly react to market dynamics.
Certainly, the market for potential customers for Neofect's core product is evident, as stroke is considered a leading cause of disability in the world.
Ban said breaking into a field known for its conservative approaches to treatment has not been easy, but credits the work of medical professionals on his team who can help explain the product's benefits to health systems. The company said a number of major Korean health systems have now incorporated the device into their rehabilitation programs.
With a solid background in technology, Ban said it was the other, "softer" skills acquired at Darden that put him in a place to succeed, noting case-study derived lessons in negotiation, communication and decision making as critical for the successful launch of his company.
"The curriculum at Darden is very helpful in real business," said Ban.