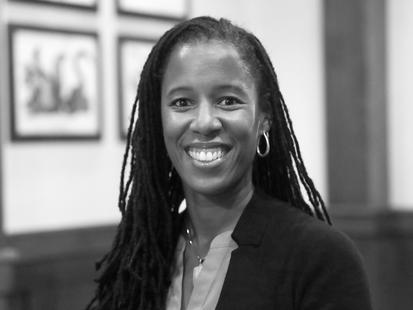 Nicole Lindsay
MBA/JD '00, Chief Operating Officer, Sustainability & Center for Inclusive Growth, Mastercard
Industry
Government/Nonprofit
Climbing Mountains for the Sake of Courageous Conversations
"When you're hiking 12 hours a day with a 40-pound pack, what else can you do but talk?" said Nicole Lindsay (MBA/JD '00), who embarked on a seven-day leadership trek with 13 Darden MBA students, Professor Yael Grushka-Cockayne and three guides in January 2014.
"There I was, standing in the dark with my headlamp on, eating mystery meat in the Arizona Galiuro Mountains with strangers," said Lindsay, who recently became the vice president of strategy and operations for Mastercard's Center for Inclusive Growth. "I didn't train. We didn't shower for seven days. And I don't even like bugs." 
Although she was physically out of her element, Lindsay was in her psychological sweet spot. At the time, she was writing The MBA Slingshot for Women: Using Business School to Catapult Your Career, "a gender-based roadmap for developing the knowledge, skills and relationships to succeed in business school and beyond." The wilderness seemed as good a place as any to initiate the kinds of honest conversations she encouraged in her book.
"Everyone talks about diversity, but we don't always have a shared vision of what it means," said Lindsay. For her, the solution lies in changing how we promote diversity to address specific challenges faced by distinct groups of people.
A former MBA admissions officer and corporate MBA recruiter who is a member of the Darden School Foundation Board of Trustees, Lindsay has also thought a lot about what it means to develop principled leaders at the School.
"At Darden, we talk about how to be a leader when you don't know the most but you are in charge, how to have courageous conversations and how to find a space in which to have them, which became immediately relevant on the hike," said Lindsay, whose confidence, poise and sense of humor make her a natural leader.
When Lindsay returned from the hike, she had no feeling in her big toes for two months. She's looking forward to her next Darden adventure, but laughed and said, "Next time, I think I'll opt for China or France."