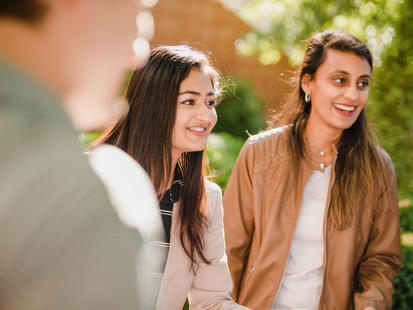 Future Year Scholars Program
FAQ - Future Year Scholars Program - MBA
Frequently Asked Questions
Darden is committed to maintaining a thorough and fair admissions process for all applicants. In this section, you will find answers to our most frequently asked questions. Don't see your question here? Email us or attend a virtual coffee chat to connect with a member of the Future Year Scholars Program Team.
Who is eligible to apply?
Any bachelor's degree student in their final year of study
Any full-time masters student that has not held a full-time work position
Students who graduate between October 1, 2022 and September 30, 2023 are eligible to apply in spring 2023, even if they begin full-time employment after their graduation.
Do I need to have studied business as an undergraduate student to apply?
No. We are looking for students that come from a variety of different academic disciplines. While some admitted scholars have studied business, others have studied biology, engineering, public policy, economics and many more majors!
How can I learn more about the Darden MBA?
What global opportunities does Darden offer?
The Darden School connects with approximately 80 countries each year through academic programs, consulting programs and visits, and students are expected to have at least one global experience during their time here. For more information, please visit our Global Opportunities page.
What organizations and resources are available for women and/or underrepresented minorities?
Are there special resources for the military?
Yes, please visit the Darden Military and Darden Military Association websites
When should I apply, and what are the application deadlines?
Offers of admission are based on merit. There is no evaluative advantage to applying in an earlier deadline. We encourage you to apply once your application is complete and you have fulfilled the test requirements. Visit Application Deadlines to learn more.
Is there a difference between the April and August deadlines?
Yes and no. There is no difference when it comes to competitiveness of the round. Our team has the same evaluation criteria in April as in August. The difference is that in April the Admissions Committee has the option to delay its decision to the August round leaving the applicant more time to develop a stronger application. Consistent with this approach, in the April round, there are three possible decision outcomes for an applicant – Admit, Deny and Hold Decision until the August deadline. In the August round, all decisions will be either Admit or Deny.
What is the application fee?
There is no application fee to apply!
What does the application require?
The application requires a standardized test score, resume, transcript, essay and two letters of recommendation.
What is the Admissions Committee looking for in prospective students?
We are looking for exceptional students who aspire to be future ethical leaders and managers in a global world. The Admissions Committee will review and evaluate applications based on three broad areas: academics, extracurricular involvement and personal characteristics.
HOW WILL UVA DARDEN'S ADMISSIONS COMMITTEE EVALUATE CLASSES TAKEN FOR CREDIT/NO CREDIT?
Undergraduate (and graduate) transcripts are just one piece of information in a broad, holistic application review process.
When reviewing your application, our Admissions Committee will be assessing your readiness for a rigorous MBA program, and your transcript is one place to showcase your academic preparation. If there is there is any aspect of your coursework or academic record you feel would benefit from additional explanation – including the decision to take courses on a pass/fail basis, we encourage you to use the Additional Comments section of your application to share more.
How should I provide my transcripts?
At the time of applying, Darden asks for unofficial transcripts. If an applicant is admitted and chooses to matriculate at Darden, then Darden will require official transcripts. These official transcripts can be emailed or mailed directly from the degree-granting institution. Electronic copies can be sent to [email protected] and hard-copy transcripts can be mailed to the following address. Please do not fax transcripts to Darden.
Mailing Address: 
Darden School Admissions 
100 Darden Blvd 
Charlottesville, VA 22903
How can I submit my recommendations?
Darden's online application has a section for the applicant to submit contact information for their recommenders. This triggers an electronic notification to be sent to the contact the applicant has provided with steps for the recommender to submit their evaluation online. Once submitted, the recommendation will automatically associate with the application record. Recommendations through the online application are strongly preferred and if you need to submit the recommendation by another means please contact [email protected].
Who should I ask to write my letters of recommendation?
Recommenders are asked to comment on the applicant's work ethic, strategic orientation, leadership skills, ability to work well on teams and communication skills among other things. Strong recommendation letters are written by people who know the applicant well, both inside and outside of the classroom or work environment.
Good options for recommenders might include a former supervisor from a summer internship, a faculty member or an academic advisor.
What else should I know about my letters of recommendation?
In addition, while our recommendation process is entirely electronic and your recommendations will associate with your application as they are received, we encourage you to stay in touch with your recommenders as you assemble your application materials. The #1 reason an application is incomplete at the application deadline is a missing recommendation, so reach out to your recommenders early and give them plenty of time to submit their letters. We generally recommend at least two weeks.
How will I know if Darden has received my recommendations?
Our online application is designed to allow your recommenders to submit their recommendations electronically. Once the recommendation has been submitted, you will receive a notification email.
What if there isn't enough space for me to enter my information in some of the data fields, for example in responses to essay questions?
Some fields are deliberately restricted. With regard to the essay, applicants should respond to the essay question within the stated limit.
Is there a deposit?
Yes. Admitted Future Year Scholars are required to pay a non-refundable, $500 tuition deposit each year prior to matriculation to hold their place in a future class. They will be asked to pay the remainder of the tuition deposit for the incoming class the year in which they matriculate.
How does Darden maintain a fair admissions process?
At Darden we do not tolerate conflicts of interest, and all UVA Darden personnel are prohibited from engaging in any outside employment or consulting which presents a conflict of interest with their duties (https://uvapolicy.virginia.edu/policy/HRM-025). Individuals with any ethical or other concerns in the admissions process are able to report such concerns by email so that they can be independently reviewed and investigated.
WHICH STANDARDIZED TEST MAY I SUBMIT WITH MY FUTUREA YEAR SCHOLARS APPLICATION? 
Applicants are encouraged to submit the test score(s) they believe best illustrate(s) their ability.
All applicants have the option to take the GMAT, GRE, EA (Executive Assessment), MCAT or LSAT. Starting with the year 2021 all applicants for Darden's Future Year Scholars Program may submit the SAT or ACT in lieu of the tests listed above. Our ETS code is 5820, our GMAC code is KC7-0X-86 and our ACT code is 4412.
Self-reported score(s) are sufficient for the purposes of our application review. All incoming students are required to submit an official test score report prior to matriculation. You must arrange for GMAC, ETS, College Board, ACT or Pearson VUE to send us your official score(s) and an offer of admission is not binding until we verify official test results.
HOW DOES DARDEN THINK ABOUT THESE TESTS AND DOES DARDEN HAVE A TEST PREFERENCE?
Standardized tests are just one piece of information in a broad, holistic application review process, and one way for a candidate to demonstrate their readiness for an MBA curriculum. The Admissions Committee accepts the following tests – GMAT, GRE, EA, MCAT, LSAT, SAT and ACT – and applicants are encouraged to choose the test that best aligns with their strengths, background and application plans.
SHOULD I APPLY WITH MY EXISTING SAT OR ACT SCORE?
It depends. When approaching the application process, we encourage candidates to first take a step back and think about their candidacy as our Admissions Committee will – holistically and objectively. This is particularly important when it comes to demonstrating your academic readiness for an MBA curriculum. As you may know, at Darden, there is a required core curriculum that includes both quantitative and qualitative courses, and, as an Admissions Committee, we want to make sure we are putting each student in a position for success during their time at Darden.
There are a number of ways for a candidate to demonstrate their academic readiness for an MBA curriculum through their application materials, including degree-related coursework, non-degree-related coursework (MOOCs, Coursera, MBA Math, etc.) and professional certifications.
Standardized test scores are another important consideration and when it comes to submitting an existing SAT or ACT score or choosing to take a new test, you will want to think about your current scores and whether you would benefit from having a more recent academic-related data point.
Furthermore, for candidates looking to differentiate themselves amongst a competitive pool for merit based scholarship, you may want to consider taking a graduate standardized test. Test scores can offer the Scholarship Committee another factor to weigh when making these awards, and, for candidates seeking to maximize their opportunity for a scholarship, having a GMAT or GRE score can provide an additional data point for the Scholarship Committee when conducting this evaluation.
Lastly, when deciding which test to submit, you will also want to consider whether your post-MBA career goals include working in an industry that requests a GMAT/GRE score as part of the recruiting process.
ANYTHING ELSE I SHOULD KNOW ABOUT THE GMAT AND THE GRE?
Applicants will also want to consider career goals as they make their test plans. The GMAT and GRE can play an important role in the MBA job search process. Some top employers will request a GMAT or GRE score as part of their application processes – for both internships and full-time positions. For this reason, we recommend you take one of these tests prior to matriculating to Darden.
Furthermore, a GMAT or GRE score can be an additional data point for our Scholarship Committee to consider when evaluating an admitted student for a scholarship award.
WHAT ROLE DO TEST SCORES PLAY IN THE SCHOLARSHIP PROCESS? 
All Future Year Scholars will automatically be considered for scholarship awards at the time of admission.
Scholars are also eligible for additional scholarship opportunities at the time of matriculation. While our admissions process is holistic in nature, our scholarship process typically focuses on indicators of academic merit. These include but are not limited to standardized test score(s), Undergraduate GPA, Graduate GPA, additional coursework, professional certifications, etc. Additional considerations could include type and quality of work experience, and leadership among others. 
A strong GMAT or GRE score can make a candidate more competitive for certain merit-based scholarships. 
I'M AN INTERNATIONAL APPLICANT. DO I NEED TO SUBMIT AN ENGLISH PROFICIENCY TEST SCORE? 
Please see our International Applicant process web page for additional guidance regarding our English proficiency requirements for international applicants. For candidates for whom an English proficiency test score is required or recommended, our Admissions Committee will consider this test score as additional indicator of qualitative ability.
Why is English proficiency required for applicants?
Darden's MBA format is built upon an immersive learning experience that requires public speaking, group discussion and active class participation. To succeed, students must possess a highly developed proficiency in written and oral English.
How are English abilities assessed?
Written and oral communication, as well as one of the following tests:
IELTS (International English Language Testing System)
PTE (Pearson Test of English)
 
Are international applicants required to take one of the approved English assessment tests listed above (even if I attended a school where the medium of instruction was English)?
Not Required: Candidates who received their bachelor's degree from a university where the medium of instruction was English are not required to take an English language assessment test (i.e., they are exempt).
Required: Candidates who received their bachelor's degree from a university where the medium of instruction was not English are required to take an English language assessment test.
Strongly Recommended: Candidates who received their bachelor's degree from a university where the medium of instruction was not English, but received a master's or PhD degree from a university where the medium of instruction was English are strongly encouraged to take an English language assessment test.
What is the minimum acceptable TOEFL score? Do you keep scores submitted in prior years?
We do not have a minimum requirement, but the average TOEFL is 106. TOEFL scores are valid for two years from the test date.
I am earning an undergraduate degree that required only three years of study. Am I eligible to apply to Darden?
Yes.
Visit our Events page for opportunities to virtually connect with the Darden community. All applicant interviews will be conducted remotely, via Zoom.
Is an interview required?

Interviews play a critical role in our assessment of candidates and are required prior to acceptance into the Future Year Scholars Program.
An invitation-only interview is conducted after your application has been submitted and reviewed by the Admissions Committee. Invitations to interview are sent on a rolling basis up to and including the decision release date for each round. There is no significance as to when an interview invitation is sent; an invitation to interview should be seen as positive indicator no matter when it is received.
Candidates for the Future Year Scholars Program may interview with a member of the admissions staff. All interviews will be conducted virtually for the foreseeable future.
What is the interview format?
Our interviews are 30–45 minutes in length and your interviewer will not have read your application nor resume. It is our policy to conduct anonymous interviews, so there is no need to send or bring in your resume to the interview.
WHAT TYPE OF JOB SHOULD I PURSUE AFTER COLLEGE BEFORE COMING BACK TO DARDEN?
We encourage students to explore industries, functions and geographies that will begin shaping them into the leaders they aspire to be. Current Future Year Scholars are working in fields such as consulting, local government, defense, investment banking, or starting their own company.
While admitted scholars are expected to work for 2-5 years prior to coming to Darden, having a job offer at the time of application is not required. However, it should be shared within the application if secured. 
WOULD I NEED TO DECIDE WHETHER I WILL WORK FOR 2-5 YEARS IMMEDIATELY UPON ADMITTANCE?
No. Admitted scholars will be asked each year, starting one year after their graduation, whether or not they plan on matriculating to Darden the following fall. Students need to gain a minimum of two years of professional experience before beginning at Darden.