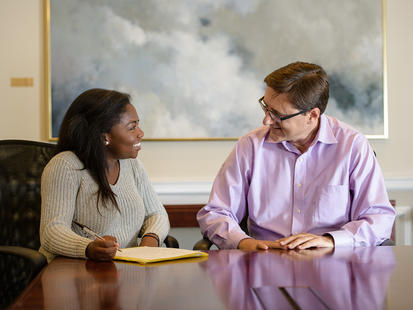 Academics
MBA - Academics - Faculty
Faculty
Darden's faculty is united by a shared commitment to instructional excellence. Learn how Darden professors will shape your learning experience.
Culture of Teaching Excellence
Routinely recognized as the best in the world, Darden professors are global thought leaders and exceptional teachers who are committed to your growth and development. Teaching truly matters here and is a defining part of the culture. Our professors work hard to create the tight-knit community for which Darden is so well-known.
Teaching is a high-priority for all Darden faculty. Accessible and compelling, our professors bring energy and enthusiasm to the classroom. You will be surprised by how they make even the most technical business school topics compelling, entertaining and memorable. Visit a class to see this firsthand.
Darden professors collaborate with one another to develop and continually refine an integrated curriculum that is relevant and energizing. For instance, you'll examine a company from a financial perspective in one class, then turn around and examine it from an ethical perspective in a different class. And this isn't by accident. The faculty carefully craft the curriculum so that you can explore an issue from different viewpoints (i.e., marketing, accounting and operations) to develop a broad understanding of how each business area approaches a common problem.
Mentors, Coaches, Lifelong Connections
Our faculty is deeply committed to your personal and professional development, both during your time at Darden and throughout your career. And they prove it in many ways, including:
Open-Door Policy
Instead of holding specific office hours, the Darden faculty has an open-door policy. Rather than having to schedule an appointment in advance, students can simply stop by a professor's office to ask a question about a case, to seek career advice or simply to chat.
Dinner With Faculty
During your time at Darden, you will get to know your professors outside of class. Professors frequently hold dinners at their homes for student clubs and affinity groups and often auction off special evenings at their homes for charitable events.
Involvement in Student Clubs & Activities
Professors attend and participate in student club activities, social occasions and sporting events, such as basketball, cricket and poker.
The connections that students form during their time in Charlottesville often result in lifelong connections. You will often hear alumni talk about professors with whom they stay in contact years after graduating.