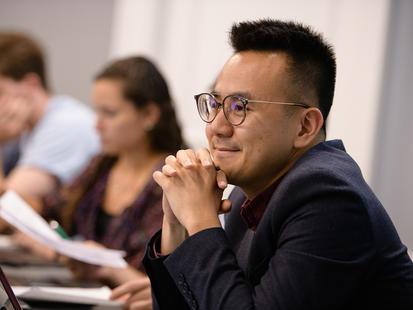 Academics
Darden MBA - Academics - Core Curriculum
Core Curriculum
An Invaluable Foundation
During the First Year, the Darden core curriculum provides students with an integrated perspective on general management. From finance and marketing to accounting and leadership, the required courses cover important business themes that are essential for any global leader. Darden's core curriculum is designed to give students breadth in academics through exposure to business fundamentals, while allowing students time for career discovery and further developing a global mindset.
Students work with their learning team in their First Year section throughout the core. Through this construct, students build relationships with their peers, sharpen their communication and leadership skills and challenge each other in a collaborative environment.
First Year Core Areas
All students take the same core courses during the first three quarters of the First Year in order to develop a common foundation in global business leadership. All core courses are crafted from a series of case studies, simulations and experiential exercises designed to build your business and decision-making skills.
The First Year Experience
In addition to the core curriculum, students participate in recruiting events, club conferences, social activities, global opportunities, experiential learning and electives — all of these opportunities are integrated into the First Year experience and gives students breadth to be global, responsible leaders.
*The information contained on this website is for informational purposes only.  The Undergraduate Record and Graduate Record represent the official repository for academic program requirements. These publications may be found at http://records.ureg.virginia.edu/index.php.