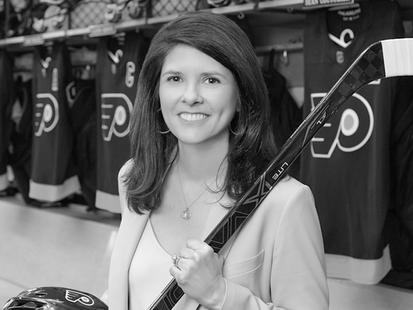 Valerie Camillo
MBA '00, President, Philadelphia Flyers and Wells Fargo Center
From the NBA to MLB to NHL: a Darden Pro Helps Top Sports Franchises Outperform
Valerie Camillo's (MBA '00) rapid rise in the sports world, with leadership positions in the National Basketball Association (NBA), Major League Baseball (MLB) and now the National Hockey League (NHL) in the span of a decade, has been due in part to her ability to bring innovation to a tradition-bound industry.
A double Hoo and lifelong sports enthusiast, Camillo, now president of business operations for the Philadelphia Flyers and the Wells Fargo Center, long dreamed of a job in the industry but couldn't find a pathway. 
"Sports teams couldn't project my skill set into one of their existing roles," said Camillo, who grew up in Northern Virginia and holds an undergraduate degree from the McIntire School of Commerce. "At my level, team sports executives were mostly experienced sales and marketing professionals — not business strategists or analysts."
Then, fortuitously, teams' emerging needs began to match her background. Camillo recalled receiving an unexpected call from Chris Granger, who was running the NBA's internal consulting division. Teams were trying to become more data-informed and analytical in their decision-making, and there might finally be a role for her in the industry. Was she interested?
Camillo got her break. She worked for the NBA's Team Marketing and Business Operations group for nearly four years. The position led to a more senior role with the Washington Nationals, where Camillo was responsible for all revenue and marketing for one of professional sports' most visible franchises. After five years with the Nationals, Camillo accepted her biggest role yet, taking charge of all business operations for the Flyers and their arena.
Camillo described her responsibilities as "end to end," including ticketing, food and beverage, and retail operations; corporate partnerships; and broadcast relationships.
"It's an awesome opportunity, and it's a whole lot of fun, too," said Camillo, who also oversees the $250 million renovation of the arena.
"In this industry, it can be kind of taboo to be perceived as a fan, but you have these moments, whether it's standing on the sidelines at the Super Bowl, or a major concert comes through and you get to meet a childhood idol like Bruce Springsteen, or you're in the clubhouse when your team clinches a playoff berth and you're getting drenched in champagne. These unbelievable moments happen," said Camillo. "And every one of us goes back in our minds to that little kid we once were, that sports fan, and for that instant, you can't help but feel incredibly blessed."
Camillo's success in the sports world came about because someone took a chance on her. For other women to follow in her footsteps, there needs to be multiple, more formalized paths available, she says.
It's important that women can see themselves at every rung of the ladder within organizations, Camillo said. There are a lot of great jobs in professional sports — many of which would benefit from diverse perspectives — and the field can be uniquely rewarding.