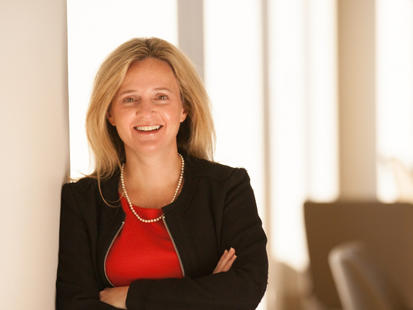 EE - Meet Our Team
Meet Our Team
The Executive Education & Lifelong Learning team work closely with organizations and individual learners to build and deliver learning journeys that fit the specific needs and goals of each client.
Ashley Williams
CEO and CLO, Executive Education & Lifelong Learning
An expert in transforming leaders through learning and development, Ashley came to Darden after serving as Global CLO of McKinsey Academy, the arm of McKinsey & Co. that provides digital and in-person leadership development for its clients. She led innovations in learning program design and delivery to meet global organizations' pressing needs to develop their talent. She also counseled clients on learning and development transformations, and led the Academy team building out a suite of capability-building offerings that are powered by technology. Here at Darden, she works closely with the faculty and Executive Education team to develop innovative custom solutions for organizations, immersive learning experiences for managers and executives at all levels, and leading-edge, technology-delivered programs on Coursera and other digital platforms.

Education: MBA with a concentration in finance from the Wharton School at the University of Pennsylvania; B.S. in Commerce, with a concentration in finance with distinction, from the University of Virginia McIntire School of Commerce.
Larry Murphy
President, Executive Education & Lifelong Learning, Custom Solutions
Larry brings progressive leadership in the development of programs at the leading edge of program design, technology and client engagement. Larry brings progressive leadership in the development of programs at the leading edge of program design, technology and client engagement. He comes to Darden from McKinsey & Co.'s Atlanta office, where he was director of partner learning. Prior to McKinsey, he accumulated 12 years of experience in higher education — mainly at Harvard Business School, where he led their custom program activities in executive education. He also spent 14 years in investment banking, holding chief operating officer roles for the European and global investment banking businesses of Morgan Stanley and UBS, respectively.
Anne Trumbore
Executive Director, Digital & Open Enrollment, Executive Education & Lifelong Learning
Anne leads Digital and Open Enrollment programs for the Sands Institute of Lifelong Learning and is responsible for expanding business education to new audiences of learners. Previously, Anne established and led Wharton Online, a strategic, revenue-producing, digital learning initiative of The Wharton School, University of Pennsylvania. As an early stage employee at Coursera, NovoEd, and Stanford's Online High School, Anne helped pioneer new forms of student-centered online education. Her work has resulted in a number of publications on online pedagogy and history, the future of higher education, and the future of work. She is currently working on a book with Princeton University Press on the history of online education.
Shaun Rozyn
Managing Director, Executive Education & Lifelong Learning, Custom Solutions
Shaun has over 14 years of executive education and leadership development experience to Darden. He recently held roles as Head of Global Leadership Development at a prominent Middle Eastern global multinational organization and Executive Director of Executive Education at a prominent African business school. Before that, Shaun has worked in the management consulting, defense and higher education sectors. Shaun regularly presents at global executive education conferences on issues including corporate talent development acceleration, emotions in decision making for leaders and leadership development strategy. Shaun is an invited member of the FRED and Global Executive Leadership think tanks.

Education: MBA from the Gordon Institute of Business Science, University of Pretoria in South Africa; completed executive development programs from Darden, Harvard and IMD business school.
Lisa Cannell
Managing Director, Executive Education & Lifelong Learning, Custom Solutions
Lisa explores opportunities for organizations to collaborate with Darden to address their talent and organizational needs through diagnoses of the leadership development and capability building requirements of public and private organizations. She helps build and secure EE programs and corporate partnerships (at the highest two levels) and actively connects Darden, its research, faculty and programs throughout the business community, including direct interaction with senior C-Suite executives (e.g., CHRO, CLO) in conjunction with EE and corporate partnership/relations priorities and benefits. Lisa networks with other top B school CHROs and collaborates with other parts of the Darden Enterprise, such as Advancement, the Foundation Board of Trustees, the Alumni Board, the Corporate Advisory Board, and the Global Advisory Council.
Education: MBA from the University of Virginia, Darden School of Business, Certificate in Organizational Consulting and Change Leadership from Georgetown University, Bachelor's in Psychology from University of North Carolina at Chapel Hill.
Ty Schieber
Senior Director, Business Development
Ty is focused on expanding and enhancing Darden Executive Education's strong foundation in the military and government arena. He brings to the team almost 30 years of sustained engagement and impact in public service, economic development, national security, technology, and education. A 1987 graduate of the US Naval Academy, he selected service with the United States Marine Corps where he served until 1998. He has two masters degrees from the Naval Postgraduate School (MS Systems Technology & MS National Security).  Ty joined the defense and technology industry in 1998. In 2013, he founded Clarity Enterprise Solutions, LLC a small consultancy specializing in solutions engineering, business development, and marketing & communications. Prior to founding his company, he ran business operations for a range of large, mid-tier, and small companies providing cyber, engineering, and technology services for government and commercial clients. He has led two companies to acquisition and has successfully integrated several acquired companies into business operations. He was elected as the Garrisonville District Supervisor on the Stafford County Board of Supervisors from January 2012-December 2013, and also served on the Stafford County School Board from 2010-2012. 
Jennifer Hicks
Senior Director, Client Solutions
As part of Darden Executive Education's Client Solutions team, Jennifer collaborates with Darden faculty to create curricula that are cutting-edge and that position Darden in the forefront of its field.  Employing expertise in the field of executive development, talent management and adult learning methodologies, Jennifer, in collaboration with the business development and program design team, develops and delivers programs that meet client objectives and business requirements. She has significant experience collaborating with client, partners, faculty, Business Development Directors and EE leadership to ensure all aspects of program delivery are planned and executed. She has spent 20+ years in various roles within executive education, all of which have been at Darden.
Lauren Shifflett
Associate Director, Executive Education & Lifelong Learning
Lauren is responsible for developing and maintaining relationships with our participants and clients; helping them continue their lifelong learning journeys to achieve business goals that allow them to lead with results. Her primary focus is assisting participants with our Leadership and Corporate Aviation programs as well as those interested in earning a Darden Certificate in Leadership. With a background in sales management, Lauren understands the importance of lifelong learning and the impact it can have on entire teams.
Allison Stratton
Associate Director, Executive Education & Lifelong Learning
Allison is part of the open programs team specializing in the areas of management, strategy, and certificate programs. As an Associate Director of Lifelong Learning, she leverages a wide-ranging academic background along with seven years of higher education experience to evaluate individual and organizational professional development needs to help plan learning journeys tailored to specific goals.