Darden Founders
Batten Institute – Darden Founders - Ben Pfinsgraff
Ben Pfinsgraff (MBA '12)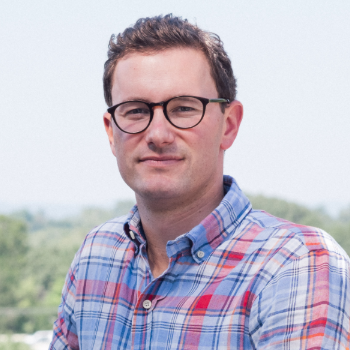 Uncommon Pursuits: An Interview With Ben Pfinsgraff, Co-Founder and COO of Common House
Ben Pfinsgraff (MBA '12)
Co-founder and COO of Common House LLC
Co-founder of Old Line Spirits LLC 
Charlottesville, Virginia
Common House LLC is a membership-based contemporary social club—a brick-and-mortar gathering space for creatives and entrepreneurs — that cultivates community through inspiration, education, and food and drink.
Old Line Spirits LLC is a Baltimore, Maryland-based distillery, specializing in American single-malt whiskeys and aged Caribbean rums.
Ben Pfinsgraff (MBA '12) has had an unusually diverse career path, moving seamlessly from Major League Baseball to investment banking to single-malt distilling and high-end hospitality. A former Philadelphia Phillies pitcher, Pfinsgraff is now part of the founding team for Common House, a gathering space that cultivates community through inspirational design, dynamic programming and fine dining in Charlottesville, Virginia. With more than 1,000 members and a Richmond, Virginia, location scheduled to open in late 2019, Common House is profitable and growing. Based on this early success, Pfinsgraff is fundraising again, with plans to expand to other similar markets in the Southeast and beyond. Read on to learn how Pfinsgraff developed his entrepreneurial vision and followed his startup passions.
---

Sean Carr: You have an unusually diverse background. Can you connect the dots to where you are now?
Ben Pfinsgraff: I'm from Annapolis, Maryland. I went to the University of Maryland, where I played baseball. Then the Philadelphia Phillies drafted me. After four years, I ended up tearing my rotator cuff and that was the end of my career. I realized quickly that while I was playing baseball, a lot of my peers had exceeded me professionally. To catch up and level the playing field, I decided to study for the GMAT and apply to business schools. I was lucky enough to get into Darden. I really wanted to do something that would put a stamp on my résumé, and I ended up going right into the investment banking track.
Sean Carr: So how did you end up back in Charlottesville as an entrepreneur?  
Ben Pfinsgraff: My wife and I met at Darden. After graduation, we went to New York, where I did investment banking and she did consulting at Bain. And when we were thinking about the next steps in our careers, I got a unique offer to turn around the Clifton Inn, this high-end Relais & Châteaux property in Charlottesville. So we jumped at the opportunity. I ended up learning a lot about running a small business, about cash management and hospitality. But it turned out that the project wasn't a long-term fit for me, so after about a year, the business was in much better shape than when I started, and I left.
And then my current business partner invited me to join this new club, the Common House, that he was launching in Charlottesville. We partnered in 2015, and after two really tough years, we opened it in June 2017. I thought that getting the business opened was going to be the hardest thing, but it was actually keeping it open. We had a few hundred members, which wasn't nearly enough, and the building we'd renovated sat empty for most days.
Sean Carr: So how did you solve that challenge?
Ben Pfinsgraff: You hustle. You do everything you can. We were all working 80, 100 hours a week. We had to sell both events and memberships, and we had to do it fast. We had our first month of profitability after six months, which was a real achievement, but I had to find outside financing to make sure that we got to that point. Now we have more than 1,000 members, and the business is profitable. So, yeah, it was having great people work for us and nonstop hustle.
Sean Carr: How did your Darden experience prepare you for what you're doing now?
Ben Pfinsgraff: I think that when you work at a large company, or you're in banking or consulting, you use a very focused part of your Darden education. But when you run a small business, you use your entire Darden education from Day One. You've got to understand people — you have to hire and manage them. You have to understand marketing, finance, operations and logistics. There are so many different pieces that it really tests your whole education. And I thought that was an incredible learning experience. Ultimately, I don't think Common House would be where it is today without my Darden education.
Sean Carr: When did you know that you wanted to pursue an entrepreneurial career path?
Ben Pfinsgraff: I always believed that I'd do something entrepreneurial. One night, when I was doing investment banking at Deutsche Bank in New York, one of my closest friends from Darden, Mark McLaughlin (MBA '12), shoots me a text. He was also doing investment banking, at Stifel in Baltimore. He's like, "Hey man, are you still up?" It was three in the morning, and we were still in the office. So we jump on the phone and start talking. And that conversation led to what is now Old Line Spirits. Today, Mark is the CEO, and they just got a large investment from Constellation Brands.
Sean Carr: You're a co-founder twice over now. Say more about that venture.
Ben Pfinsgraff: When Mark called me that night, he was like, "What are we doing in this banking thing, man?" He used to be a Navy pilot and an officer in Iraq and Afghanistan, and I played professional baseball, and now we were working in the middle of the night in banking.
Mark asked me, "What have you been thinking about?" And I was always doing research on the next steps for me, and where market opportunities might lie. One of the things I researched was distilling. I thought that the distilling market was where brewing had been 30 years ago. When I mentioned that to Mark, he was like, "No way! I did this project on the distilling industry at Darden." So we went down that path together. I did a lot of research, trying to figure out all of the laws and how this could work. So we founded what eventually became Old Line Spirits LLC but ultimately I chose not to do it full time.
Sean Carr: What does the future hold? What happens next?
Ben Pfinsgraff: We want Common House to be the concept that helps turn around cities and neighborhoods. Our initial focus is to go well beyond the Southeast. So I'm raising capital at a much larger level than before, in order to scale the business and build out the team to do that.
Sean Carr: It sounds as though the Darden network has been important in your career. Can you say more about that?
Ben Pfinsgraff: I reach out to Darden people all the time. There've been dozens of my classmates whom I've asked for advice, from real estate to raising equity, and for introductions to other people. Some of my largest investors are Darden alumni. My second largest investor — I cold-emailed him, and he emailed me back within minutes. He said, "Do you want to get on a call?" We did that, and within weeks he closed out my round. 
The biggest benefit of the Darden experience is its strong network, and I think it's a different network than at other business schools. Darden shapes good people with strong connections, and that has been invaluable to my success.