Kathryne Carr Award
Kathryne Carr Award for Entrepreneurial Excellence
Presented in memory of Kathryne "Kathy" Carr, beloved and respected director of the Batten Institute's flagship incubator program, this award encourages entrepreneurial excellence by recognizing founders who exhibit Kathy's indomitable spirit.
About Kathryne Carr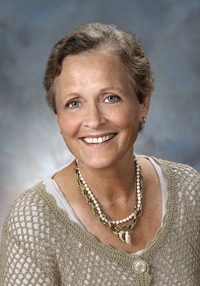 Kathryne Carr (1955-2015) was a vibrant life force in all she did. In the entrepreneurial world she gave generously of her spirit and experience; held a high expectation of integrity; and shared her boundless faith in those who innovate. She always offered her time and experiences, good and bad, to those in the University community. She was no different with her family and friends.
Throughout her life, Ms. Carr relentlessly applied her natural ability to see how the collaborative sum of talent and ideas can improve the pace of development and success of all entrepreneurs. She provided this insight with great humor and optimism underscored by pragmatism and real-world experience.
Criteria for the Award
The Kathryne Carr Award for Entrepreneurial Excellence recognizes the entrepreneur(s) whose venture demonstrates the greatest potential for commercial success and whose founder\team best embody magnetic, selfless leadership. We can imagine no better way to honor Kathy's memory. 
In the event of a close competition (which we hope for), the winner of the award will be determined according to the following measures, in order of priority, above and beyond the commercial potential of the venture and the leadership of the founder:
1. A team player, a colleague, a mentor and a friend within the broader VentureLab community;
2. Grit and perseverance in the face of challenge and adversity;
3. Humility at a level to which others aspire.
Submission Materials
For the 2020 Kathy Carr Award, only those applicants who actively participated in the 2019 incubator program (VentureLab) on a full-time basis will be eligible. Applicants should submit the following materials by email to Sandra McCutcheon for consideration by the selection committee:
Video Pitch. No greater than 7 minutes in length, uploaded to YouTube with password protection. We understand your team may be geographically dispersed, so please feel free to compile different teammates presenting into one 7-minute video. Not everyone on your team is required to be a part of the video portion!

Product/Service Demo Video. (Optional) No greater than 3 minutes in length. Uploaded to YouTube with password protection. An opportunity to provide the committee with a sense of the experience with your product or service.

Executive summary. No greater than two pages in length;

Outline of key milestones. Both past and immediate future;

Presentation. As a PDF file, no greater than twenty slides;

Recommendation letters. Two or three, from the company's Advisory Board or committed Mentor(s).
NOTE: Incomplete or late applications will not be accepted.
Key Deadlines
Application deadline: 29 April 2020, 3:00 PM EST
Finalists Announced: 6 May 2020
Finalist Presentations to Selection Committee: 12 May 2020
If you have any questions or concerns, please contact Sandra McCutcheon. 
Past Award Recipients
2019 Recipient - Purpics

Founded in the Page House dorm room of Aneesh Dhawan and Victor Layne, PurPics empowers individuals to promote the brands they love to raise funds for the causes they care about.

Focused upon influencers, it should be no surprise that the PurPics team were a positive influence on their 2018 cohort. After that summer, the team joined the Techstars "Farm to Fork" accelerator before raising a $750,000 seed round. Now based in Austin, Texas, the PurPics team stays true to their initial mission: make the world a better place.

2018 Recipient - Beanstalk

Founded by brothers, Jack and Michael Ross, Beanstalk's mission is to create a sustainable abundance of nutritious food through technological advancements in growing and harvesting. Beanstalk Farms grows heirloom produce in automated indoor farms.

After joining the 2017 incubator cohort, Jack and Mike were selected for Y Combinator's Spring 2018 program. Jack was selected as a "STEM catalyst" by Virginia Governor Ralph Northam and the Science Museum of Virginia. Also in 2018, the co-farmers raised their seed round (get it!) and returned to Northern Virginia, where they began growing and selling produce from their vertical, autonomous farm—its over 20-feet tall!

2017 Recipient - Kira Kira

In 2017, Suz Somersall received the inaugural Kathryne Carr Award. Somersall first founded Suz Somersall Designs, producing 3D modeled jewelry that was featured in a variety of business and fashion outlets, such as: Wall Street Journal, InStyle, Real Simple, and MarieClaire.

Somersall then converted this passion for engineering and design to found KiraKira, an online community and platform designed to inspire and prepare the next generation of innovators, makers, designers, and architects. The platform teaches and enables students to create virtual and physical products using CAD software.

KiraKira was selected to participate in Intel's Education Accelerator program, and has partnered with HP, Autodesk, and True Ventures on a MakerStudio in San Francisco's Ghiradelli Square (featured in the San Francisco Chronicle). Somersall was honored as one of Fast Company's Most Creative People of 2017, and the company has been features in outlets such as Entrepreneur and INC magazine.