Tre Tennyson
Tre Tennyson
UVA Graduation Year: 2010
Hometown: Richmond, Virginia
Undergraduate Major: English and Religious Studies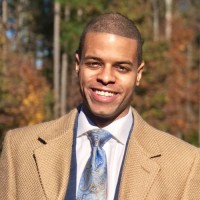 First Year Darden student Tre Tennyson (Class of 2021) has a passion for education – for himself and for others. His mother was a lifelong educator, and Tennyson's work has followed in her footsteps. After graduating from UVA, Tennyson joined Teach for America, later became director of a school in Shenzhen, China, received his Masters in Education Policy and Management from Harvard, and now is pursuing a Master of Business Administration (MBA). Despite his robust liberal arts background, Tennyson has become captivated by the investment banking and will be spending his summer internship with JP Morgan, where he received the JP Morgan Launching Leaders Fellowship. 
Q: What did you do after graduating from UVA?  
A: As a Fourth Year, I was in need of something that would make me look outward and consider a different perspective. While I was living on the Lawn, Teach for America was very active in their recruiting of Lawn residents. Although it was not something that was on my radar at all, eventually I realized that their mission corresponded with many of my values. 
Q: When you were an undergrad student, did you know that you wanted to go to graduate school or get an MBA? 
A: I thought maybe I would be out in the world for a couple years and then do law school. Darden always seemed intersect with my life, though. The CEO of a company I worked for went to Darden, an advisor from Darden also served as an advisor here on Grounds, and I was often at North Grounds for performances.  
Q: What made you return to school for your MBA? 
A: Truthfully, business school was not on my radar until I was in China. As director of a school in China, I oversaw the sales, marketing, all the business components of an organization. I fell in love with the business side, but didn't have the technical skills or experience. As an English and Religious Studies student, I had not taken a formal math class since I was 17. My experiences in education and my master's program at Harvard prepared me for group dynamics and the social network of business, but I needed to stretch my quant capabilities. 
Q: Why Darden? 
A: Darden has a rigorous reputation, but that felt like a good fit because I wanted a robust experience that would challenge me. I have learned more in the last four months than I could have ever imagined. Darden allows you to leverage your experience and background in the classroom - you gain confidence by using your own experience, and that allows you to breathe and be humble in the areas where you are still learning.
Q: Advice to UVA undergrads 
A: If you have a non-business background, don't look at that as a bad thing. This experience will stretch you, and you will have more support than you could imagine because of Darden's strong community and network. Leverage your UVA experience as an undergrad and bridge the gap between Central Grounds and North Grounds!