Richard A. Mayo Center for Asset Management
Mayo Center - Darden EMBA Fund
Darden EMBA Fund
The Darden EMBA Fund (DEF) is a team of Executive MBA (EMBA) students whose purpose is to enhance students' learning in investment management including managing an investment portfolio as well as supporting careers in finance. DEF maintains strong contacts with students and alumni and fosters relationships across the investment industry.
DEF manages the Sabre Fund, a long-only equity fund with a focus on large-cap and mid-cap stocks. The fund's selection of stocks is backed by rigorous fundamental analysis with an emphasis on situations that offer promising growth priced at reasonable valuations. This approach enables EMBA students the opportunity to look for great companies with competitive advantages and that trade at attractive valuations.  Additionally, the fund has a long-term focus, thereby encouraging fund members to consider the future of each investment opportunity and what businesses can thrive in a changing world. In conducting their analysis the fund managers will apply both bottom up and top down analysis. DEF believes that a strategy of owning stock in great companies for long periods of time and concentrating the portfolio holdings in the managers' best ideas provides an opportunity to create value for DEF investors.
 
Darden EMBA Fund Leadership Team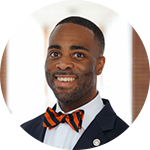 Carter T. Whitelow — Chief Executive Officer and Vice President of Networking and Engagement
Carter is a government relations advisor at Williams Mullen, a mid-sized law firm in Richmond, Virginia. With over 11 years at the firm, he specialized in payroll, benefits, wellbeing and government relations. His financial passion grew from his father, Alfred T. Whitelow, the first Black Southern large-case IRS manager. Carter studied finance at Virginia Commonwealth University, later transitioning to corporate payroll and benefits. He now specializes in government relations, focusing on transportation, health care, technology, energy, business development, economic development, and cannabis.
A native of Virginia, Carter contributes to various civic boards and organizations. He's a citizen member of the Henrico County Finance Board, managing the $1.2 Billion USD VACo/VML Pooled OPEB Trust. Carter is involved with the Ujima Legacy Fund as a Grant Committee member. He completed the Sorensen Institute for Political Leadership in 2022. At Darden, Carter co-founded the Darden Golf Society. His most cherished role is being a father to two incredible young women, Josephine A. and Jacqueline J. A. Whitelow.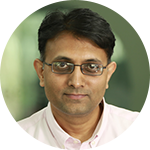 Viral Brahmbhatt — Chief Investment Officer
Viral earned a medical doctorate and a Ph.D. in Biochemistry and Molecular Biology. He is experienced in R&D management, innovation, and product development within the food and nutrition sector. He has also worked at the UVA School of Medicine (iTHRIV) as a commercialization officer and scientific advisor. He is a lifelong learner with a desire to have a positive societal impact through his professional activities.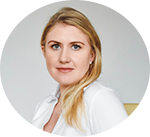 Liza Ketcham — Director of Research and Events
Liza is an account manager at Givaudan, the global leader in the fragrance and flavor industry. She has been with the company for over 10 years and has served in a variety of sales and marketing roles. She is passionate about the B2B space and thrives at delivering growth through customer relationship building and client management. She is a natural people connector, and in her role within DEF, she curates speakers and learning opportunities for the Executive MBA program. She graduated from The University of the South: Sewanee with a B.A. in French Studies.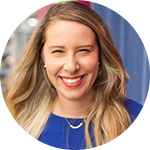 Amelia DeSorrento — Portfolio Manager
Amelia is a Director of Product Management at Capital One, where she focuses primarily on new ventures and enterprise-wide program development. Prior to joining Capital One, Amelia co-founded Hatch Apps, a Y Combinator and Morgan Stanley-backed startup. An advocate for women in tech, Amelia launched the Vinetta Project in D.C. which has since helped D.C.-area female-founded companies raise millions in seed-stage funding. Amelia has also taught on social enterprise at American University's Kogod School of Business, and has written for the Harvard Business Review, the Atlantic and Fast Company. Amelia has been recognized as a Forbes 30 Under 30 awardee, Washingtonian Tech Titan, and Power Woman of D.C. Tech. Amelia graduated Phi Beta Kappa from Brown University with a degree in Brazilian Literature in 2014. She lives in Fairfax, Virginia with her husband and their six children.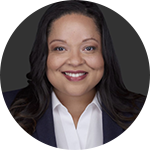 Veronica Gordon — Portfolio Manager
Veronica currently serves as a senior management and program analyst at the United States Agency for International Development (USAID). She was recently selected by USAID's Office of General Counsel to serve in a short-term assignment as the first non-attorney advisor on diversity, equity, inclusion, and accessibility (DEIA). In this position she supports General Counsel executive leadership and staff with refining and advancing their DEIA goals and objectives. Veronica has extensive experience leading complex, cross-functional high priority projects and programs across large government agencies to assess trends and challenges, define impacts, mitigate risks, and recommend (and in some cases implement) corrective actions to enhance organizational health and performance. Veronica is skilled at providing crucial consultative support to executive leadership in areas of strategic planning, strategic communications, strategy design, change management and program delivery. Veronica graduated from the University of Virginia with a B.A. in Politics and an M.Ed. in Educational Leadership and Policy. She is passionate about advancing inclusive economic development.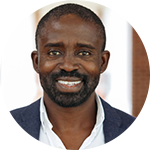 Kofi Sey — Portfolio Manager
Kofi currently practices as a Certified Registered Nurse Anesthetist (CRNA) in Richmond, Virginia, where he has held multiple leadership roles within his organization. Born and raised in Ghana, West Africa, he immigrated to Brooklyn, New York. He attended Virginia Commonwealth University where he was a four-year letterman for the Men's Soccer team while studying nursing. Kofi's interest in Business came after his graduate studies at VCU where he became fascinated with investors like Howard Marks and Warren Buffet. This fascination to learn and grow was instrumental in his decision to pursue an MBA at Darden. He hopes to ultimately pivot and switch careers into the financial sector. His insatiable appetite for new knowledge coupled with his voracious tenacity for hard work has served him well. He is excited by this new learning opportunity with the Darden EMBA Fund.

View 2023 Darden EMBA Annual Report