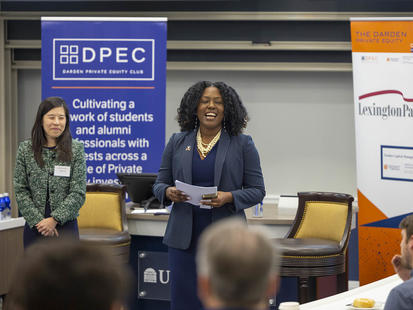 Richard A. Mayo Center for Asset Management
Mayo Center for Asset Management Events: Darden Private Equity Conference (DPEC)
The Darden Private Equity Speaker Series
Each year, the Darden Private Equity Club and the Mayo Center for Asset Management convene leading private equity practitioners at the intersection of several industry hot topics. This year we will be hosting several guests as part of a speaker series occurring through the fall and spring semesters.
 
9 November 2023: Mark Pacala (Operating Partner, Healthcare Private Equity). Mark is a tenured business professional with over 30 years of general management and private equity experience in healthcare and consumer services companies.

15 November 2023: John Fruehwirth, Darden '96 (Managing Partner, Rotunda Capital Partners)
Additional speaker information will be added as it becomes available.
Past Events
2023

2023 Conference: 23-24 March

Event Summary from The Darden Report
Photo Album
 

Agenda Overview:

DPEC President's Opening Remarks, Sukari Brown (MBA '23)

Remarks Honoring Susan Chaplinsky and Her Impact, John Fruehwirth (MBA '96), Rotunda Capital Partners

Fireside Chat on Global Infrastructure Investing with Jose Maria Zertuche, BlackRock  (Moderated by Professor Elena Loutskina)

Panel on Investing Opportunities and Considerations in Healthcare with Church Moore, Kelso and Frank Winslow, Quad-C (Moderated by Taylor Cole, Harren Equity Partners)

Keynote Speaker (virtual), Jose E. Feliciano, Clearlake Capital (Moderated by John Loverro, Lexington Partners and Sukari Brown (MBA '23))

Panel on the Current State of Private Equity: "Exploring Investment Activity, Trends, and Challenges" with John Alouf, Virginia Retirement System and Caitlin Fitzmaurice, Selby Lane (Moderated by Schon Williams, Mercer Alternatives)

2022


Keynote Address

 

David Rubenstein, Co-Founder and Non-Executive Chairman, Carlyle

 

 

Moderated by Robert S. Harris, C. Stewart Sheppard Professor of Business Administration, UVA Darden

 

 

 

ESG and Private Equity

Elizabeth Lewis, Managing Director and Deputy Head of ESG, Blackstone

 

 

 

Joseph Acevedo, Managing Director, BlackRock Alternative Investors, BlackRock

 

 

 

Jason Scott, Managing Director, Renewable Resource Group, Co-Chair, CREO Syndicate

 

 

 

Moderated by Matthew McBrady, Professor of Practice, UVA Darden

 

 

 

State of the Industry and Moderated Q&A

 

David Fann, Vice Chairman, Aksia

 

 

 

Moderated by John Loverro ('00), Partner, Lexington Partners

 

 

 

Perspectives: Founding and Building a Private Equity Firm

Erik Scott, Co-Founder and Partner, Avance

 

 

 

Moderated by John Fruehwirth ('96), Managing Partner, Rotunda Capital Partners