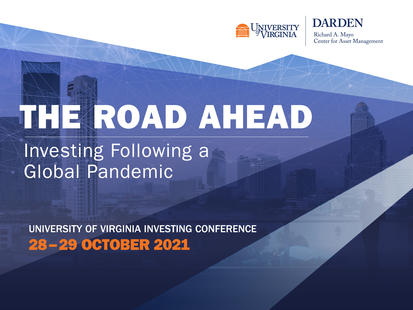 Richard A. Mayo Center for Asset Management
Mayo Center - Events - UVIC
University of Virginia Investing Conference (UVIC)
The 14th Annual University of Virginia Investing Conference (UVIC)
28-29 October 2021
The 14th annual University of Virginia Investing Conference (UVIC) focuses attention on investing following a Global Pandemic. The investment world has undergone a crash-course in pandemic finance. The global economy and markets are thankfully recovering, however the recovery has thus far been uneven with some regions experiencing robust growth while other regions less so. This raises the important question of what investment opportunities emerge from the pandemic that will serve investors well in the coming months and years. This year, the topic will focus on expectations for investors by providing an array of diverse, well-reasoned, ideas and views on tackling this important, yet challenging, topic. Program speakers will detail approaches and ideas for how investors might position themselves for success for investing over the coming years including:
What investing categories are poised to benefit from economic reflation?
What risk remain on the horizon for investors?
How the global pandemic has changed investing.
How might blockchain and decentralized finance disrupt financial intermediation? 
Thursday, October 28th:
3:00PM - 4:00PM
The Great Society: Parallels and Lessons Learned for Today's Leaders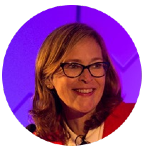 Renowned economic thinker, leading presidential historian, and New York Times bestselling author, Amity Shlaes will join the UVIC program to share research findings from her latest book, The Great Society: A New History. In an event rich with stories and her trade-mark humor Miss Shlaes will bring to light the parallels between the economic challenges of the 1960s-1970s and the present day. Themes that emerge from her research include:
Idealism can lead to less than ideal consequences.
The public sector preforms less well than the private sector, which delivers in surprising ways.
Even the greatest of experts, including in the monetary sphere, can commit the most embarrassing and most politicized errors.
In addition to The Great Society, Miss Shlaes is the author of four New York Times bestsellers: The Forgotten Man: A New History of the Great Depression, The Forgotten Man/Graphic, Coolidge, and The Greedy Hand: How Taxes Drive Americans Crazy. She chairs the board of the Calvin Coolidge Presidential Foundation and the Manhattan Institute's Hayek Book Prize, and serves as a scholar at the King's College. A former member of the Wall Street Journal's editorial board, Miss Shales published a weekly syndicated column for more than a decade, appearing first in the Financial Times, then in Bloomberg. Her work was recently awarded the Bradley Prize, one of America's most prestigious prizes for policy work.
Moderator:
Robert F. Bruner, University Professor, Distinguished Professor of Business Administration and Dean Emeritus of the University of Virginia Darden School of Business, and Senior Fellow of the Miller Center of Public Affairs at the University of Virginia.
Friday, October 29th:
Session 1: The Changing Venture Capital Landscape
8:10AM
Speaker:

Ian Ratcliffe – Managing Partner, Sands Capital Ventures
Moderator:
Elena Loutskina - Professor of Business Administration, Peter M. Grant II Bicentennial Foundation Chair in Business Administration, University of Virginia Darden School of Business
Session 2: Opportunities for Investing in Asia Pacific
9:00AM
Speakers: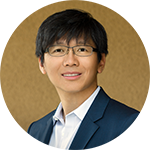 Jason Hsu, Ph.D. – Chairman and CIO, Rayliant Global Advisors, Co-founded Research Affiliates, Professor of Finance, UCLA School of Management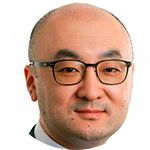 Jie Liu – Founder and CIO, AnglePoint Asset Management
Moderator: 
Dennis T. Yang, Dale S. Coenen Free Enterprise Professor of Business Administration, University of Virginia Darden School of Business
Session 3: Dynamic Impact of Global Liquidity on Markets
10:15AM
Speaker:
Michael Howell – CEO, CrossBorder Capital
Moderator:
Kinda Hachem - Morris Plan Associate Professor of Consumer Credit, University of Virginia Darden School of Business
Session 4: Blockchain and Decentralized Finance Panel Discussion
11:05AM
Speakers: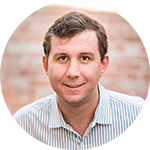 Matt Burton - Partner, QED Investors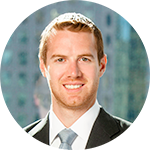 Nate Conrad - Global Head of Asset Management, NYDIG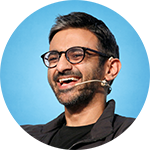 Avichal Garg - Co-Founder and Partner, Electric Capital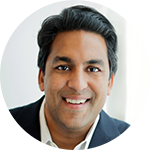 Atul Rustgi - Partner, Accolade
Moderator:
Caitlin Fitzmaurice - Managing Director, University of Virginia, Investment Management Company