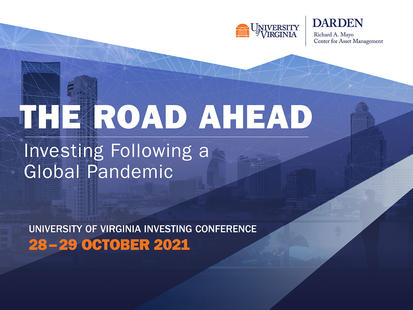 Richard A. Mayo Center for Asset Management
Mayo Center - Events - UVIC
University of Virginia Investing Conference (UVIC)
The 14th Annual University of Virginia Investing Conference (UVIC)
28–29 October 2021
The 14th annual University of Virginia Investing Conference (UVIC) focuses attention on investing following a Global Pandemic. The investment world has undergone a crash-course in pandemic finance. The global economy and markets are thankfully recovering, however the recovery has thus far been uneven with some regions experiencing robust growth while other regions less so. This raises the important question of what investment opportunities emerge from the pandemic that will serve investors well in the coming months and years. This year, the topic will focus on expectations for investors by providing an array of diverse, well-reasoned, ideas and views on tackling this important, yet challenging, topic. Program speakers will detail approaches and ideas for how investors might position themselves for success for investing over the coming years including:
What does a recovery mean for inflation and interest rates?
What investing categories are poised to benefit from economic reflation?
How will the rise of retail trading influence markets?
Will market enthusiasm for SPACs and crypto currencies wane or continue to march higher?