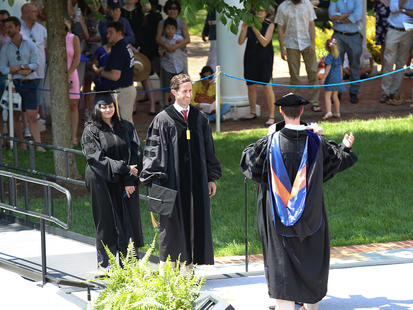 PHD - About the Program
About the Ph.D. Program
The University of Virginia Darden School of Business offers an intellectually demanding doctoral program for a select group of high-potential applicants: men and women who already have a breadth of knowledge in the functional areas of business and who have a strong interest in academic research. 
Please note: The Ph.D. program is not accepting new applications. Check here for updated information on when the program will accept new applications.
Program Overview
The primary aim of the doctoral program is to train you to become an academic researcher capable of contributing on the cutting edge of research in management, particularly within your area of expertise. We will provide you with the learning experiences, readings and methodological training needed to do academic work at the highest level. Our program is distinctive in that it has a cross-disciplinary curriculum and cohort of students who have interests that span multiple areas within management — Ethics, Entrepreneurship and Leadership in Organizations.
Programs of Study
Ethics

Entrepreneurship

Leadership in Organizations
Curriculum
| First & Second Year of the Program | Credit Hours |
| --- | --- |
| Doctoral Level Major Field Courses | 12 |
| Pedagogy | 3 |
| Research Methodology | 9 |
| Other Customized Coursework | 24 |
| Total | 48 |
Employment

 

One measure of success is job placement. Listed below are where some of our graduates are now employed:

Academic Institutions (In-state)

University of Richmond
University of Virginia
Washington & Lee
Darden School of Business
Virginia Polytechnic Institute
James Madison University
William & Mary

Academic Institutions (Out-of-state)

University of Pennsylvania
University of Missouri
Texas A&M University
Lehigh University
Iowa State University
University of Colorado-Boulder
Dartmouth College

International Academic Institutions

IESE
CEIBS
IMD
INSEAD
Yonsei University

Public Sector

CIO – AHA Multimedia
Principal – Archstone Consulting LLC
Managing Director – CFA Institute
Chairman – Karl-Adam Bonnier Foundation

Publications

 

Publications are also an important factor in measuring success. Our graduates have published in journals such as:

Academy of Management Journal
Academy of Management Perspectives
Academy of Management Review
Business Ethics Quarterly
Business and Professional Ethics Journal
Entrepreneurship Theory and Practice
Harvard Business Review
International Journal of Entrepreneurship and Education
International Journal of Entrepreneurship and Innovation
Journal of Business Ethics
Journal of Business Venturing
Journal of Entrepreneurial Finance and Business Ventures
Journal of Management Development
Journal of Marketing Research
Journal of Marketing Theory and Practice
Journal of Operations Management
Journal of Strategic Marketing
Organization Science
Organization Studies
Strategic Management Journal
The Journal of New Business Venturing
One measure of success is job placement. Listed below are where some of our graduates are now employed:
Academic Institutions (In-state)
University of Richmond
University of Virginia
Washington & Lee
Darden School of Business
Virginia Polytechnic Institute
James Madison University
William & Mary
Academic Institutions (Out-of-state)
University of Pennsylvania
University of Missouri
Texas A&M University
Lehigh University
Iowa State University
University of Colorado-Boulder
Dartmouth College
International Academic Institutions
IESE
CEIBS
IMD
INSEAD
Yonsei University
Public Sector
CIO – AHA Multimedia
Principal – Archstone Consulting LLC
Managing Director – CFA Institute
Chairman – Karl-Adam Bonnier Foundation
Publications are also an important factor in measuring success. Our graduates have published in journals such as:
Academy of Management Journal
Academy of Management Perspectives
Academy of Management Review
Business Ethics Quarterly
Business and Professional Ethics Journal
Entrepreneurship Theory and Practice
Harvard Business Review
International Journal of Entrepreneurship and Education
International Journal of Entrepreneurship and Innovation
Journal of Business Ethics
Journal of Business Venturing
Journal of Entrepreneurial Finance and Business Ventures
Journal of Management Development
Journal of Marketing Research
Journal of Marketing Theory and Practice
Journal of Operations Management
Journal of Strategic Marketing
Organization Science
Organization Studies
Strategic Management Journal
The Journal of New Business Venturing