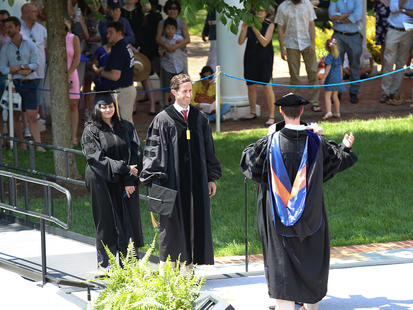 PHD - About the Program
About the Ph.D. Program
The University of Virginia Darden School of Business offers an intellectually demanding doctoral program for a select group of high-potential applicants: men and women who already have a breadth of knowledge in the functional areas of business and who have a strong interest in academic research. 
Program Overview
Darden's doctoral program is designed to provide you with the learning experiences and methodological training needed to do academic work at the highest level. Our program is distinctive in its cross-disciplinary curriculum and our diverse cohort of students who have interests that span multiple areas within business and business management. We compliment a rigorous exploration of one's focal area with a broader enterprise perspective on business and markets. 
Programs of Study
Strategy, Ethics & Entrepreneurship

Quantitative Analysis
Curriculum
| First & Second Year of the Program | Credit Hours |
| --- | --- |
| Doctoral Level Major Field Courses | 12 |
| Pedagogy | 3 |
| Research Methodology | 9 |
| Other Customized Coursework | 24 |
| Total | 48 |
Darden Doctoral Fellowships
Fellowships are awarded to students showing significant academic promise.  Our aim is to make the program accessible for talented Ph.D. students from all parts of the globe and walks of life help Darden create an inclusive and diverse community that is critical to the School's mission. Major elements of a fellowship includes:
Full Tuition and Fee Scholarship
Ph.D. students receive full tuition and fee support for four years of full-time study, conditional on satisfactory progress in the program. 


Health Insurance
A subsidy to pay for the University's student health insurance. 
Teaching and Research Assistantships
Students are expected to complete a research assistantship for Darden faculty for the duration of the program.
 
Employment

 

Our doctoral graduates serve as faculty at some of the leading universities and business schools in the world, including:

University of Pennsylvania
Dartmouth
INSEAD (France)
IESE (Spain)
IMD (Switzerland)
CEIBS (China)
Yonsei University (South Korea)
University of Virginia
William & Mary
University of Colorado
University of Missouri
Texas A&M University
Lehigh University
Iowa State University
Washington & Lee
University of Richmond
Virginia Polytechnic Institute
James Madison University

Publications

 

Our doctoral graduates publish in leading academic journals, such as:

Academy of Management Journal
Academy of Management Perspectives
Academy of Management Review
Business Ethics Quarterly
Business and Professional Ethics Journal
Entrepreneurship Theory and Practice
Harvard Business Review
International Journal of Entrepreneurship and Education
International Journal of Entrepreneurship and Innovation
Journal of Business Ethics
Journal of Business Venturing
Journal of Entrepreneurial Finance and Business Ventures
Journal of Management Development
Journal of Marketing Research
Journal of Marketing Theory and Practice
Journal of Operations Management
Journal of Strategic Marketing
Organization Science
Organization Studies
Strategic Management Journal
The Journal of New Business Venturing
Our doctoral graduates serve as faculty at some of the leading universities and business schools in the world, including:
University of Pennsylvania
Dartmouth
INSEAD (France)
IESE (Spain)
IMD (Switzerland)
CEIBS (China)
Yonsei University (South Korea)
University of Virginia
William & Mary
University of Colorado
University of Missouri
Texas A&M University
Lehigh University
Iowa State University
Washington & Lee
University of Richmond
Virginia Polytechnic Institute
James Madison University
Our doctoral graduates publish in leading academic journals, such as:
Academy of Management Journal
Academy of Management Perspectives
Academy of Management Review
Business Ethics Quarterly
Business and Professional Ethics Journal
Entrepreneurship Theory and Practice
Harvard Business Review
International Journal of Entrepreneurship and Education
International Journal of Entrepreneurship and Innovation
Journal of Business Ethics
Journal of Business Venturing
Journal of Entrepreneurial Finance and Business Ventures
Journal of Management Development
Journal of Marketing Research
Journal of Marketing Theory and Practice
Journal of Operations Management
Journal of Strategic Marketing
Organization Science
Organization Studies
Strategic Management Journal
The Journal of New Business Venturing