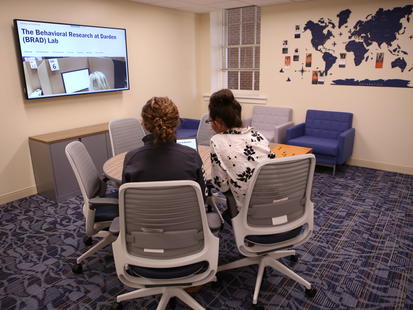 The Darden Ph.D. Program
Ph.D. - Research Community
Research Community
Darden is a distinctive and energizing place. We care deeply about creating new research that makes core contributions to academic literature, yet we also care passionately about speaking to the world of practice and pursuing ideas that matter to how we live.  
Darden is one of the top business schools in the world known for its best-in-class MBA program and transformational learning experiences.  Darden has been consistently ranked the world's best educational experience and our faculty have been ranked the best in the world.
Our faculty are global experts on a wide variety of topics and are routinely asked to speak and consult with business leaders and policy makers. They publish in the leading academic journals and are leaders within their respective fields, serving as editors, conference chairs, and society presidents. Most importantly, they embrace conversations and engagement across disciplinary bounds. Our faculty recognize that Darden is a vibrant community, and they enthusiastically contribute to a robust intellectual atmosphere.
Our research is supported by a robust infrastructure including our Office of Research Services and affiliated Behavioral and Data Labs. In addition, Darden houses several world-class research centers that support and amplify our scholarship. 
The Batten Institute for Entrepreneurship, Innovation, and Technology

The Institute for Business in Society (IBIS)

Olsson Center for Applied Ethics

The Darden Collaboratory for Applied Data Science

The Mayo Center for Asset Management
As part of our research community, you will be surrounded by world-class scholars, outstanding teachers and student colleagues who will push you to do your best work and grow as an emerging scholar. Contributing to this intellectual exchange is a robust set of seminar series, including:
The Ph.D. program is now accepting applications for Strategy, Ethics & Entrepreneurship and Quantitative Analysis for students to start in fall 2023. Apply now.