Alumni Reunion
Alumni - Reunion & Events - Class of 1970
Class of 1970
Class information will be added as plans are confirmed. If you are interested in getting involved with your reunion, please contact Whitney Wilson, director of reunion giving.
Reunion Committee Members
Don Hobson, Class Agent
Jack Young, Class Secretary
John Hausmann
Carl Howk
Bob May
John Montague
Terry Stuart
Bill Welsh
Faculty and Special Guests
Information incoming.
Friday Night Class Event
Information incoming.
Saturday Afternoon Class Activity
Abbott Society Luncheon followed by Afternoon at the Vineyard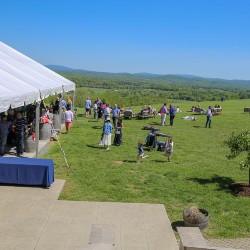 Saturday Night Class Activity
Information incoming.
Reunion Class Goals
Come back! Please mark your calendar for Darden Reunion 2021 and begin making travel plans. Check out the list of hotels and book your room now. Charlottesville hotels are in high demand that weekend due to annual spring events in the area.
Give back! Darden has embarked on the historic Powered by Purpose campaign, and our class has chosen to participate by expanding the impact of our existing class scholarship. We hope that you will be a part of this meaningful effort for our class.
The Darden Reunion Giving recognition period for classes ending in 0 and 5 has been extended through 30 September 2020. We ask that you consider making a five-year pledge to the Class of 1970 Scholarship at a level that is meaningful for you. Your commitment will help our scholarship expand its impact in support of students with a background of military service.

Please visit the Darden Reunion Giving webpage to learn more and participate.