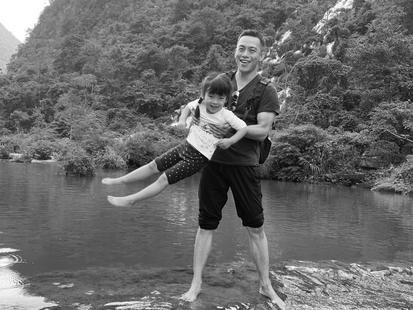 Jie Cao
MBA '14, Associate Partner, Bain & Co.
Areas of Expertise
Consulting, technology, consumer goods
Jie Cao (MBA '14) is currently as associate partner with Bain & Co., based in Shanghai, where he focuses on consumer goods retailing and the high-tech sector. Before joining Bain China, Cao worked for IBM China, where he gained extensive experience in research and development and sales. In an interview with He Yuhang (Class of 2022), Cao spoke about his journey from an undergraduate experience focused on software engineering at Nanjing University to the Darden School and offered tips for prospective students.
Can you tell us about your experience as a software engineer before entering Darden?
My undergraduate selection of software engineering was a pilot. At that time, China set up a software engineering major for the first time. Making this choice also represented my confidence in the future development of this industry. I gained much out of the four-year study and I joined IBM after graduation.
At the beginning, I was doing software research and development in IBM's China Development Lab. However, limited interaction with other sales and service departments in China always made me feel that I lacked understanding of the external business world. Later, I applied for an internal transfer from IBM, entered the front-end sales department, and became a client representative. I was delighted to strive for such a change and be able to see how IBM served customers and cooperated with channel providers and local software companies in China.
Six years of pre-MBA work experience is relatively longer comparing to many other MBA applicants. What drove you to pursue studying abroad?
At that time, I chose to continue studying mainly for two reasons. First, if I continued to work, my future career path did not make me particularly excited. Five or ten years later, I could foresee myself probably becoming a second-line leader of the business. I may not have been satisfied with such professional achievements, nor did these achievements arouse my passion. Although many people may think that a career change can be achieved through job-hopping, I subconsciously understood that an MBA may provide the best path for my career change. In addition, it had always been my dream to have a period of study or work experience abroad, so I decided to study for an MBA in the United States and got the offer from Darden.
Why Darden?
In the process of communicating with many alumni of Darden, I realized that this school would help me enter all the industries I wanted to go to and realize the purpose of career change. Dylan Lu (MBA '13), the senior who interviewed me at that time, left a very deep impression on me. Among the Darden Chinese alumni, he is always very active and has a strong charisma; I felt that being in an alumni network with such person would be a great thing, so from both rational and emotional point of view, I thought it would be a very satisfying choice for me.
Were there any professional differences you felt after entering Darden?
Before entering Darden, my career goal was actually to become a general manager. However, after entering Darden, the vast amount of job search resources made me rethink the various possibilities of career change, and also made me interested in consulting and private banking at the same time. By comparing the two completely different life paths of either staying in the United States or returning to China, assessing my own strengths and career development possibilities, I eventually decided to set returning to China as a prerequisite for my job search. And, I finally took consulting as the direction of my main post-MBA career. I got a total of five interview opportunities, three of them from consulting and two from other corporations. I failed in my first interview, but with the help of intensive mock interviews and case training provided by Darden's Second Year students, I successfully got all offers from those four interview opportunities. I chose to join Bain to become a generalist, hoping to realize my wish to see more industries.
Can you comment on Darden's case method and what kind of help or influence it has on job hunting and mock interviews?
I think the biggest advantage of case teaching is that it can make you willing to learn. It is a way of repeating the case to help people immerse themselves in the state of learning and gain something. Although I may forget some of those terminologies after graduation, I really enjoyed the process of learning at the time. The feeling of solid acquiring of knowledge and skills is still evocative, and the solid foundation cultivated at that time [has] value in the face of various environments even many years after my graduation.
How else did Darden influence your professional journey?
The second year of returning to Darden after the summer internship is more open, especially after removing the pressure of job hunting. You have more opportunities to choose more interesting elective courses on campus, and more time to travel and expand horizons. I went to Israel and Turkey with Darden's Global Business Experience project. Those times made me really happy from the bottom of my heart. And during the South American trip during the winter break of the second year, I also met my wife, by chance. My wife was a student at Kellogg School of Business, and had been working at BCG before going to the United States to study. After being acquainted, we deepened our understanding of each other through more spare time in the second year, so we returned to Shanghai to work together after graduation. Looking back now, it is actually a common phenomenon to find a life partner who has the same goals and the same development goals through an MBA, and makes a stable choice for future life location and path planning.
Did you enjoy consulting at first?
The summer internship at Bain gave me an excellent impression of Bain's Shanghai office. Although Bain's scale in China is not the largest, the warm and familiar relationships between people, the work I did during the internship and the care and protection I received from my colleagues as a newcomer made me choose to sign a return offer without further consideration and come back here after graduation.
What takeaways can you share with people who are interested in this area?
In the six years since I joined Bain after graduation, I have been involved in several industries, including consumer products, industrial products, and [technology, media and telecom. I have gradually determined that retail is the main direction of responsibility. On the one hand, I chose this direction because I still have the desire to move forward along the consulting career path. On the other hand, Bain's accumulation in the retail industry and my personal interest in developing the industry have confirmed my desire to continue cultivating the sector. At present, in the process of serving retail and consumer products, the consulting industry is making extensive use of big data and some cutting-edge technologies to achieve precision marketing and customer service, which in itself is an effective combination of my interests.
For newcomers who want to join the consulting industry, one piece of advice I can provide may be to master the core skills of becoming a qualified consultant as soon as possible. You can also think about the growing industries that you want to continue to focus on in the future. Consultants who bring value to customers and are recognized by customers often rely on professionalism, which should come from the accumulation of the industry knowledge.
In the current Chinese market, there are too many opportunities and changes waiting for everyone to discover and grasp, so keep discovering oneself also means a better prepared status when opportunities appear in the future.
To what extent is Bain China connected to other regional offices and in what ways? Are there any differences in the industries and clients that Bain serves in China compared to other countries?
Bain's China offices work with foreign offices all the time, but the degree of cooperation depends on the specifics of each project. Indeed, we rarely work abroad, which may be different from the model of other competitor firms. However, our window of experience transfer is always open, which provides an excellent opportunity for many junior consultants to experience foreign cultures.
Everyone seems to be concerned about the impact of the COVID-19 pandemic on the consulting business in China. How do you view the situation?
For now in the domestic market, I think the epidemic did bring an impact on the way consulting works, but at the same time it is relatively small. While many firms are indicating that they will become more willing to communicate and discuss in virtual meetings, the reality is that it is still more efficient to serve Chinese companies in face-to-face meetings, and it is unlikely that this habit will change significantly because of a wave of the pandemic. I think the obvious shift is likely to occur in the level of development of some industries, combined with the recent uncertainty in international relations, may force some industries to reduce their demand for consulting services, but in turn will allow others to explore new opportunities in the midst of the crisis.
Compared to other industry backgrounds, what are the differences between those who enter consulting directly from an MBA program?
First of all, I think an MBA is one of the most important and successful path to change career direction, especially in consulting. I am actually in charge of industry hiring at Bain, which is the last to open up from industry hiring compared to the other two major competitors. However, it seems that the current social recruitment situation is facing three main challenges. Firstly, consultants recruited from various industries have a lack of knowledge compared to MBA graduates, which is more obvious when they are exposed to finance-related knowledge in their work. However, these knowledge gaps can now be compensated for by applying the firm's resources wisely. The second point is to maintain a mindset of embracing and adapting to change. Some candidates recruited from industry are used to solving problems in the traditional way and lack the potential of MBA to embrace change, so they are more likely to stagnate when faced with a fast-paced and result-oriented work environment. The last point is that consulting firms are also facing challenges as employers. We are still in the process of figuring out how to make the best use of these talents from the industry. In contrast, MBA recruiting is a more successful path with more experience, and we are more familiar with how to train and help such newcomers to the workplace to get into their roles quickly.
Do you have anything to say about your alma mater and Darden's alumni in China?
The short-term goals I recently set for myself include more and deeper participation in the construction of the Darden China Alumni Association in the future. In fact, the more you look back in your career or your life, the more value you will find in previously accumulated network resources, although these values may not be immediately noticeable to people who are new to the workplace. Darden's alumni network in China is relatively small compared to some other North American MBA alumni schools, but the current alumni association chooses to interact with core alumni as the cornerstone to form a good atmosphere to gradually influence more alumni and expand prospective students.