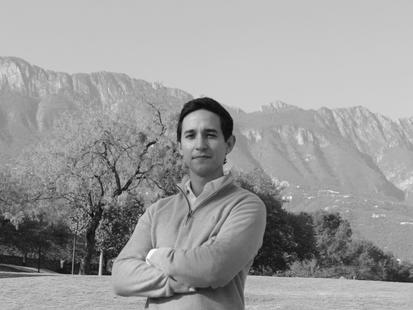 Adrian Viesca
MBA '17, CEO, MICHE MIX
Adrian Viesca (MBA '17) came to Darden with a single-minded short-term professional goal: to work at Nike.
An undergraduate engineer who enrolled at Darden with experience in strategy consulting, Viesca immersed himself in the Darden experience, fully engaging in the classroom while joining and leading clubs and serving on the MBA program advisory committee.
But when it came to recruiting, Viesca passed on the on-Grounds interviews and opportunities and steadfastly tried to network his way into an internship with the sports apparel giant. A tall task in any year, Viesca's potential road to Nike was made more difficult because, as a student from Mexico, he needed an employer that would sponsor a visa. He also had his sights set on the company's global strategy group, which had a reputation of being exceptionally tough to crack.
"All of my friends thought I was crazy," said Viesca. "But I would tell them, what's crazier, taking a chance or settling for something you know for a fact is not what you want?" Viesca noted that he also had the full support of his wife, who was pursuing a master's degree in literature at UVA.
Viesca recalled nearly networking his way into a Nike internship, but landed at Amazon between first and second year. He started second year as focused as ever on the Nike job, even working with Professor Kimberly Whitler on his personal pitch to the company and taking Everett Fortner's "Business Development for Career and Personal Success," where he was surrounded by students pursuing venture capital careers and other less-traveled paths, many of whom had not yet settled on a post-Darden job.
Then, as graduation neared, he received a call: He was offered a job at Nike, on the small strategy team reporting directly to the CEO. He had his dream job.
"I was ecstatic," said Viesca. "My two years of effort had paid off."
The ecstasy lasted exactly one week, until Viesca received a call from Nike on the last day of classes. A company-wide hiring freeze. Let's talk again in December, they said.
With his visa expiring that summer, December was an impossibility, said Viesca. With no job and time running out, Viesca said he realized he had been thinking about things all wrong. He had been stubbornly set on the path; instead he decided to focus on the destination.
"I always knew I wanted to lead a company before my 45th birthday," said Viesca. "I wanted the opportunity to lead a group of people and together accomplish something great. I knew I had a lot to learn to get there."
An Unexpected Leadership Opportunity
With a fresher perspective, Viesca eventually found what would turn out to be the perfect next step. A mentor in the CPG world was leading a turnaround effort as CEO of Mission Foods, the global multibillion dollar provider of Hispanic food products, and Viesca became one of the handful of corporate strategy managers. Better still, by reporting directly to the CEO, Viesca had a mentor to teach him "pretty much everything you need to know about becoming a CEO."
Although it wasn't Nike, Viesca said Mission provided the best learning opportunities to become the best CEO he could be. He had a front row seat of a cultural transformation, strategy pivot, marketing revamp and a crash course in convincing people to embrace change.
Indeed, Whitler remembers Viesca as a sponge for knowledge, someone interested in talking strategy for over an hour after class.
"He had this voracious appetite to understand strategy and business," said Whitler. "I see him as a knowledge acquirer — and sometimes the best sources of knowledge, experience and wisdom are not in the obvious places." 
In 2019, a few years into his Mission Foods tenure, a Darden connection encouraged Viesca to meet with the board of MICHE MIX, a Mexico-based beverage company with plans for global growth that, coincidentally, was also in the middle of a turnaround phase.  
The conversations proved fruitful, and Viesca found himself CEO of a multinational corporation at 32. He had arrived at his goal, by the most unexpected of paths.
"My lesson, when I look back at everything, is the importance of knowing where you want to go, and not necessarily surrendering to the short-term temptations of what everyone else is doing," said Viesca. "If you trust your abilities and your strengths, even if the way is not traditional — or more circuitous — it will still leave you better off than what you thought was possible in the short-term."
Students with international backgrounds can be understandably risk-averse given the complications surrounding visas, but staying true to what you really want to do will usually result in a better outcome, Viesca said.
"Most international students I talk with have a 'do or die' mentality, where they incorrectly believe that failing to acquire a U.S.-based job after graduation implies a failure on their end," said Viesca. "In the greater scope of things, when you talk about decades, it cannot be further from the truth."
Currently at MICHE MIX, Viesca is managing a team of 80 and has overseen a doubling in revenue in two years. Popular in Mexico and Central America, the company's core products are available in some parts of Europe and will soon launch in the U.S.
Viesca said he is the happiest he's ever been, leading a company that aims to create extraordinary moments around the globe, while showcasing the "quality and coolness" of his home country through MICHE MIX created micheladas — a beer-based bloody mary and Mexico's most popular cocktail.
"We like to say it's going to be the next margarita," said Viesca. "We are in the early stages, but we are the largest player in the world, and we have big ambitions for it. It's going to be fun."
Viesca is currently working on a case about the company with Whitler.
Embracing a Stakeholder Mindset
While overseeing global growth in an emerging category, Viesca is also trying to be the best CEO he can be, setting an example of stakeholder capitalism while igniting growth for the company. One of the positives of a leadership position at a relatively young age is that the lessons from the Darden classroom and cases are still fresh.
"A leadership role after Darden often feels like the true final exam of an MBA, challenging you to figure out how to apply everything you learned, and in the process, internalizing all of the knowledge before it's too late," Viesca said.
On the leadership and organizational behavior front, Viesca is striving to create a culture that prioritizes ethics, demonstrating that businesses can be successful without a "shark-like mentality". He believes in treating employees at all levels of the company as trusted partners, communicating with transparency, and seeing everyone in the organization as "humans not resources."
Viesca also said businesses large and small should not underestimate the impact they can have in the local community. Realizing that almost 90 percent of the employees working on the operations side of a particular plant lived within two miles of the factory, for instance, MICHE MIX plans to completely revamp a small neighborhood park offering new amenities and lighting in an under resourced area.
"I think it just goes to show that there are a lot of things you can do that are not necessarily at a global level that will have more impact than you think," said Viesca. "I would push people to open their eyes and see how each of their own actions create a multiplier effect in the lives you touch. That's one angle of how I'm addressing stakeholder capitalism."
For now, Viesca is balancing the needs of his stakeholders with growth on his mind, as MICHE MIX, a 25-year old company, attempts to "break all the paradigms." 
"We're going to be able to say that we have done something that no other company has done before," says Viesca. "If we are able, as a 25-year old company, to multiply the value of the business 22x over the next five years, that means we will have done something incredible."