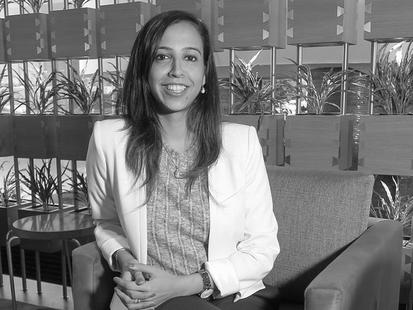 Akansha Jain
MBA '15, Director, Ambit Switchgear Pvt. Ltd.
Born and raised in Delhi, India, Akansha Jain (MBA '15) worked for Deloitte as a technology consultant before choosing to get an MBA and returned to consulting after Darden, joining the Everest Group in Dallas after graduation. Ultimately, though, she chose to return home to India to become the director of her family's business, with the hope of learning to run and grow her own business.
Transitioning from consulting — where deadlines and roles were very well defined — to a culture where deadlines weren't as stringent and her goals were much more broad presented unique challenges. And Jain also found herself faced with the challenge of being taken seriously. 
"My profile has more than one anomaly in it to gain acceptance. I was a young, America-returned successor who was a woman in a male-dominated industry," Jain said. "Presumptions were made that I had very little idea about how to survive in the Indian ecosystem, let alone how to lead people. The team did not know nor care what my qualifications were."
Jain found that what worked best for her was to stop caring and focus on the company. "At first, I found myself in a very defensive stance, but I soon realized that I cannot ask for acceptance. I stopped worrying about it and gave myself six months. Over this time, I started with understanding the processes and fixing them, learning the products, our clients and financial data." She learned every bit of history she could and demonstrated knowledge in finance and accounting that she gained at Darden.
Eventually, people started to come around and realize that she was the right person for the job.
When asked what was in store for her future, Jain said she plans to continue to lead businesses with sustainable work practices, where people enjoy working and growing together. "The most memorable class I had was Professor Ed Freeman's 'Social Capitalism.' I think it left me with a very important seed that I would like to see grow into a plant one day."
As for advice for other female leaders in business, Jain said: "I think it is best to not let being a woman become too much of an obsession in your head. Be fierce and go for what you are aiming for. It is good to be aware about the challenges that you might face, but I do not think it changes what and how you have to conduct yourself. When we have the power, we have the responsibility to exemplify better work places, even if those work places were not perfect when we found them. I stand for meritocracy, so I try to practice what I preach."