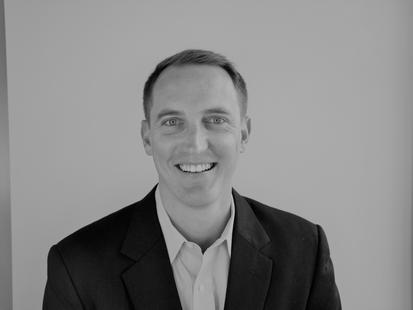 Andrew Olesen
MBA '14, Manager, Bain & Co.
From Global Opportunity in Consulting Comes Global Perspective
After graduating from the University of Virginia with a bachelor's in systems engineering, Andrew Olesen (MBA '14) joined the U.S. Navy and later received a master's in nuclear engineering from Penn State. But after five years as an naval engineer, he found he was more excited by strategic and systems questions than technical engineering problems. 
He decided to pursue an MBA to round out his skillset and move into a more strategic role. "Choosing Darden was easy," Olesen said. "No other school had the combination of community and practical, hands-on education through the case method. Plus it is every UVA undergrad's dream to get to live in Charlottesville again."
What do you miss most about Darden?
The time and freedom that come from living in the Darden bubble. You are busy, but it is almost always with things you have chosen to do. Classmates are all right there with you and on the same schedule. When you have a break, there are not emails from coworkers piling up. Instead, your Darden friends are also on break too and want to drive across the country or travel the world with you.
What have you been up to since graduation?
I joined Bain & Co. as a consultant in the Washington, D.C., office and have just returned from a year spent as a manager in the London office. The variety of consulting — across industries, functions, people and ways of working — was a big part of what led me to it. Now, a few years into consulting, I am excited to be focusing on the energy and power sector at a time when the global energy system is being reinvented. Elsewhere in life, I have gotten more involved with a D.C.-based bicycling advocacy nonprofit, went on an extraordinary expedition to Antarctica focused on leadership and the environment, and, most importantly, got married last year.
What interested you in working abroad?
At Darden, I studied abroad in Hong Kong, and early as a consultant, I had the opportunity to work with a few French, British and German clients. This made me appreciate that there are a whole set of problems and ways of living that I had only just glimpsed. Moving to London for a year was a chance to go deeper into a different — if closely related — culture and economy, while also being a great jumping-off point for exploring Europe. I am fortunate that Bain offered this opportunity, and while moving is never easy, I felt I had to seize the chance.
How has working overseas influenced your worldview?
On one hand, I have a far greater appreciation for the richness and diversity of human culture and experiences. My teammates in London came from all corners of the world with such unique stories. Traveling for work and holiday in Europe, I was struck by the cultural differences that exist over small distances. For example, being from the U.S., it is easy to think of "England" as one entity, but it is such a diverse tapestry of histories, foods and peoples.
On the other hand, working overseas has made it more real to me that all people are bound together on this earth. We all struggle with the same questions of how to balance today's desires with the long-term health of ourselves and our planet, how to treat outsiders, and how to take care of the people we love.
What is the biggest lesson your experience abroad has taught you?
It taught me a new level of humility. My way of doing things, seeing things or thinking is just one of many, and it is intrinsically tied to the happenstance of my surroundings. As an American, living in British culture is a great way to learn this lesson. You understand the words and grammar, so it is easy to be lulled into thinking you know what people are telling you. I have become more thoughtful in how I listen ("sorry" may mean "it is your fault") and in how I speak with others ("I have a few comments" may be taken as "scrap this and start again").
What advice would you give to current MBA students?
Travel with your Darden classmates, and not just for a few days. The Darden bubble is wonderful, but there is so much to be learned and great friends to be made in a study abroad or a trip to visit your classmate's home town on the other side of the world. And, of course, trust the process.