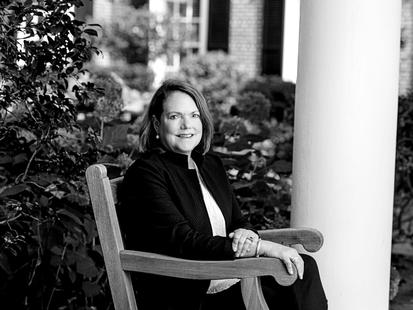 Ann Taylor
MBA '85, Chief Relationship Officer, Focused Ultrasound Foundation
Industry
Government/Nonprofit
Areas of Expertise
Nonprofit Management
Ann Taylor (MBA '85) received a call in 2019 from Dr. Neal Kassell, MD, the University of Virginia's former co-chair of neurosurgery, asking her to join the medical technology nonprofit he founded — the Focused Ultrasound Foundation. She had recently wrapped up a combined 24 years at the Thomas Jefferson Foundation, which owns and operates Monticello. 
For Taylor, who had worked most of her career in museum and university development, early stage medical technology was new terrain. But she had personal reasons to be interested: a young coworker and a close family member had recently died of cancer-related causes. She sensed an opportunity to do meaningful work while learning something new.  
"Having purposeful work and making an impact is an important part of who I am," says Taylor, now chief relationship officer for the Charlottesville-based foundation. 
The venture is the global hub for medical research, patient advocacy and education related to focused ultrasound — a highly disruptive, noninvasive therapeutic technology with the potential to transform the treatment of many medical disorders by using ultrasonic energy to target tissue deep in the body without incisions or radiation. With FDA approval for seven different indications (and 30 regulatory approvals worldwide), the technology is now in various stages of research and development for more than 150 uses, including cancer and neurological disorders such as brain tumors, Alzheimer's and depression. 
Taylor conveys enthusiasm for the clinicians and scientists who are expanding the boundaries of focused ultrasound. "The time it can take for a game-changing, breakthrough medical technology to go from the laboratory bench to widespread patient care can be positively glacial. It can take decades," she says. "Every month we shave off that process will help improve the lives of literally millions around the world."  
Taylor is used to taking on new challenges. A UVA graduate in government and foreign affairs, she was working in advertising when she decided to earn an MBA and switch to finance. Darden was "an intense experience," she recalls. "I was a poet. I didn't have much quantitative experience in advertising. Being able to test myself was a fantastic opportunity for me." 
Taylor's career includes executive roles at Monticello; co-founder of a multichannel marketing company with her sister, Connie Hallquist (MBA '91); and executive director of the Darden School Foundation. 
"The Darden faculty are champions for the students," she adds. "They are truly the main reason that alumni are so fiercely loyal to Darden. I had the good fortune to be both a student and later a colleague with the amazing Darden faculty."
What motivated Taylor's career — a fascination with the lessons of the past — fuels her work at the Focused Ultrasound Foundation today. 
"History is not preordained. Things never had to happen the way they did. They happened because people had a vision to change things for the better," she says. "It's the same with focused ultrasound."