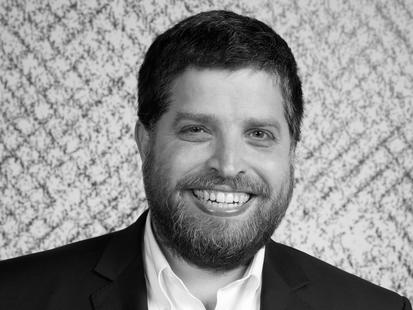 Arnie Katz
MBA '09, Chief Product and Technology Officer, StubHub
Successful Products Meet Needs, Solve Problems
Arnie Katz (MBA '09) says he likes to work on big ideas and tackle big problems. Sometimes it works out, sometimes it doesn't — both outcomes offer opportunities for improvement.
Stationed as a manufacturing engineer in the Israel Defense Forces (IDF) despite his computer science background, Katz said he took an initially puzzling assignment and made it his own, leading a significant rebuild of the IDF's systems engineering department — from the number of electrical sockets per room to the design of the software-human interaction in the server rooms.
It turned out to be an "unbelievable opportunity," said Katz, whose career includes multiple instances of making the most of the opportunity at hand.
After five years with the Israel Defense Forces, Katz and his wife eventually made their way to the University of Virginia, with Katz pursuing his MBA at the Darden School and his wife working toward her Ph.D. in math. At Darden, where Katz said he arrived with "no business etiquette," the engineer both founded an innovative online grocery delivery service and spent the summer after First Year interning with McKinsey & Co. When it came time to decide whether to pursue consulting full-time or give his business, Relay Foods, his full attention after graduation, Katz chose the less certain path.
"I knew the reason the consulting companies were attracted to me was that I was good at logical thinking, and I could present a solid argument and present it well," said Katz. "But I didn't like advising very much. I prefer to do."
Katz devoted five years to Relay Foods — essentially a grocery delivery service that predated the recent boom in the sector —  as co-founder, president and COO. While the business gained devoted fans and some traction in the region, it became clear the company as structured had a ceiling to its growth, Katz said.
"It was ahead of its time, and we made some fundamental mistakes," Katz said. "The customers were telling us something, but we weren't able to listen because we believed in our axioms too much. One of the things I learned out of that was to challenge everything, including my own beliefs about the world."
At the time, Walmart was working to get its online grocery business off the ground, and Katz took his Relay Foods knowledge to the West Coast, joining Walmart eCommerce as senior director of customer experience and innovation for the company's online grocery unit.
"I finally had my unicorn," Katz said, as he helped to build the fledgling unit into a billion dollar business in the span of two years. Success in the grocery unit led to Katz' next position at the company, taking the role of vice president of product and engineering in international e-commerce for Walmart Labs, the innovation-focused unit of the commerce giant.
"I was able to be an entrepreneur, even within Walmart," Katz said. "I think I was successful because I was able to get good people in a productive environment and get them to think about and chase after big ideas that sometimes work and sometimes don't — but in both cases you learn a lot."
Katz said his experience in large companies with strong cultures is that they make space and opportunity for people who make an impact.
In the role of chief product and technology officer at StubHub, a company which recently sold for more than $4 billion, Katz says his charge is to activate new growth engines for the company, a platform for buying and selling tickets to live events. Katz describes the transition as going from food to providing the "emotional nourishment" of helping to facilitate participation with live spectacles.
Katz has been an active presence in the Darden alumni network, helping to enable the growing pipeline of Darden students taking internships and jobs with West Coast technology companies.
His advice to Darden students interested in the space? One, if you're not an engineer, at least learn how to talk to and work with the engineers. Develop a fluency and familiarity with the tools of technology, if not necessarily an expertise.
Even more important than technological acumen, however, is what Katz described as customer empathy, or "the ability to get into the customer's shoes and to understand what they want."
"You're going to serve customers that are not you when you build technology products," Katz said. "You need to understand what their pain points are, what their frustrations are, and then build products that solve their problems and alleviate some of their frustrations. Once you do that, then you have brought value to their life."
The customer-centric, human-centered mindset is one Katz honed executing on projects in the workplace, but which were introduced at Darden, working with classmates and professors like Saras Sarasvathy, Jeanne Liedtka and Tim Laseter.
"The biggest takeaway from Darden wasn't me picking up another formula in how to do finance or statistics better," Katz said. "It was about being in classes and reading books and then talking about it in small settings and having discussions with your learning teams and getting feedback from them about your actions — and learning from it."