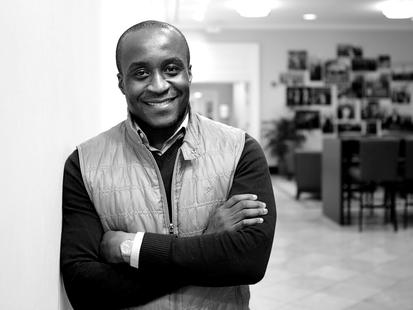 Chinesom Ejiasa
MBA '09, Principal, Sums 15 Holdings
Areas of Expertise
Asset Management, Impact and ESG Investing
Combining Purpose and Profit to Improve Education in Africa
Darden School alumnus Chinesom Ejiasa (MBA '09) remembers the feeling of unease watching his father and mother work endlessly to support extended family in Nigeria who didn't have nearly the economic opportunities to support themselves.
Ejiasa's parents immigrated to the United States in the 1970s after the Biafran War, with support from the Nigerian government due to his father's status as a top academic student. Ejiasa identifies as "a dual-culture kid." He grew up in Denver, Colorado, but his Nigerian heritage heavily influenced his life's perspective and affinities. The path he has followed to the present is deeply influenced by his dichotomous upbringing.
"As a kid watching my parents, I wondered, 'Why should they shoulder the responsibility alone?'" Ejiasa said. "My parents would tell you culture expects that of them." For Ejiasa, the bemusement was not about his parent's admirable response to the condition but rather the condition itself. The condition was a function of education — or the lack thereof. But at such a young age, he could not adequately square the notion that education was at the center of his parent's opportunities.
It was not until he advanced his career post-Darden that he fully began to marry his personal obsession and professional pursuits.
After Darden, he joined the private equity team at The International Development Finance Corporation (formerly the Overseas Private Investment Corporation), which mobilizes private capital to solve development challenges in emerging markets.
After nearly six years at the DFC, during which he managed $900 million in capital reserved for private equity funds across four continents and over 30 countries, Ejiasa spent two years as director of investments at Africa Integras, an education real estate investment holding company.
At both firms, Ejiasa furthered his understanding for how the private sector was investing in general and within emerging markets, and he was not always happy with what he saw.
"Around 2012, I started to become frustrated in how we, in the royal sense of the word, were investing," Ejiasa said. "We made considerable investments in macro industries like financial institutions, commercial real estate, technology and infrastructure, but insufficient investment in human capital."
His career experience — not to mention the six years he served on the board of Washington Latin Public Charter School — gave him the skills, insights and network to architect a more productive model to tap the power of return-seeking private investors to invest in human capital. The result is a new investment management company Ejiasa is developing with a goal to create systemic advancements in Africa's education system while delivering competitive risk-adjusted returns to investors.
Through the company, Ejiasa will seek to answer the question of how to use private investment as a constructive tool to improve access to and the quality and relevance of Africa's educational system.
"One has to invest across the entire educational value chain to materialize the change we truly want and need," Ejiasa said. "Investment in quality teachers, quality school operators, quality facilities, quality curriculum, and more."