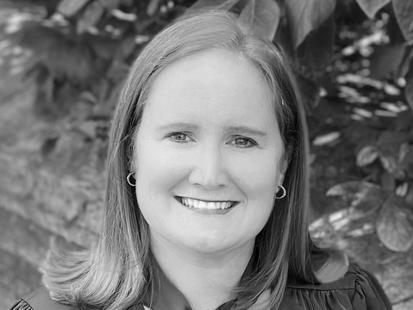 Christine Davies
MBA '09, Founder and CEO, Poligage
Areas of Expertise
Business-Government Relations
The seed for a new kind of government affairs consultancy was planted the moment Christine Davies (MBA '09) stepped foot on the Grounds of the University of Virginia Darden School of Business.
Davies, founder and CEO of Poligage, came to Darden armed with leadership experience in international economic development and policy. She was in business school for a reason; though it was not yet fully clear, she had flirted with the idea of opening a business in the government affairs space for a long time.
"Darden was life-changing for me. It opened my eyes," she says. "I'd been a referee in government affairs and public policy while in government, but I wanted to become one of the players on the field. At Darden, I built up those abilities."
Poligage, launched in 2019, is the first government affairs and public policy online marketplace to use a pay-as-you-go model. It connects businesses with leading experts for guidance on public policy, legislation, regulatory efforts and other government activities. 
It was in a Darden elective on two-sided online marketplaces that the seed for Poligage took root. That's when Davies connected the dots between her strengths in problem-solving and systems thinking to the government affairs consulting world.
"I knew there and then that the government affairs industry was kind of archaic. I thought, wow, maybe this is a way to bring more efficiency and order to government affairs consulting."
For years, government affairs has operated on a high-dollar retainer basis. This can be a murky and, for some business clients, unworkable arrangement, Davies says. 
"Government affairs is often a critical business function, just as important as marketing and finance. But many companies don't understand how it works," she says. "They don't understand what they're paying for. They don't know if they're getting value. Some have strong feelings about the government. They often don't engage until the proverbial house is on fire. Or they are priced out of advisory services altogether."
Rather than competing with traditional models, Poligage opens a door to new opportunities in the sector, Davies says. Businesses of all kinds have a growing need for policy expertise, and the economic disruption brought on by the pandemic has made it all the more imperative.
"We're trying to grow the industry and provide access for thousands of companies that haven't been engaged," she says. "We can bring a lot of new business opportunities to our experts."
More than 100 experts have signed on as independent vendors. They include former members of Congress, ambassadors, and White House and agency officials, as well as current corporate executives, lobbyists and political party advisers.
The site features an experts database searchable by 10 knowledge areas and dozens of attributes, plus expert white papers, blogs and other content available for purchase. Clients sign up for a free account and contact consultants directly to find the right fit.
"We're very much about transparency and the efficiency of being able to go directly to these folks," Davies says. "You can read about their background. You can see what 30 or 60 minutes of their time will cost. And you can see if they're selling digital content on the site. In a matter of seconds, you can request time with one of these experts."
The company is ahead of projections since its soft launch. It has completed $250,000 in preseed fundraising, with a goal of raising $1 million from angel investors by January 2022.
"Professional services is the fastest-growing segment of the e-commerce world," Davies says. "We feel very aligned with where these ecommerce trends are going."
Davies has built Poligage around her passion for problem solving and providing clear pathways. In a class taught by Professor Bob Landel, "I fell in love with systems thinking and systems engineering."
"He talked about getting the marble to move through the pipes as efficiently as possible," she recalls. "For me, the role of Poligage and what our online marketplace represents is to provide a new set of pipes for those marbles when it comes to government affairs. The system provides the transparency, efficiency and capability important for business and makes government affairs more accessible."
Davies looks at the world with that systems thinking hat on. "I'm always wondering how we can provide a better experience, more success, better outcomes."