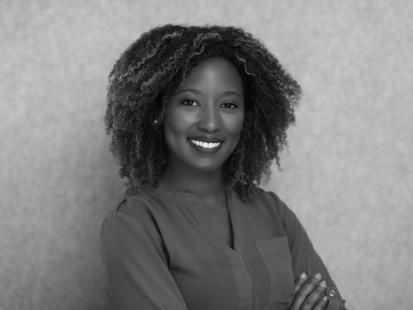 Daniele Wilson
MBA '11, Head of Industries – Nonprofits, Google Inc.
Areas of Expertise
Public-Private Partnerships, Marketing for Nonprofits
Daniele Wilson (MBA '11) is used to looking a little out of place. 
Raised by a military family — mostly in Germany, but ultimately in Florida — she noted it was a little odd being a "Black girl speaking German in South Florida." Later, she was one of just three Black women in her 2011 class at Darden. And today she is, too often, still the only woman of color in a senior leadership meeting. 
She may not have ever really struggled to find a strong voice — a firm, upright bearing is just part of military culture, she says — but she has worked hard over the years to adapt it to her setting, softening or hardening the edges as needed. 
As more meetings move online, she has had to think more strategically about how she comes across on the screen and how to foster trust among employees she can't interact with in person, as well as working harder than ever to decode the nonverbal cues of others on the call. 
Wilson, who is based in Washington, D.C., manages the Google team that works with nonprofits to help them improve their online strategy and presence, and micro-target their audience. She also leads Google's legislative and policy advocacy efforts to help nonprofits thrive in an increasingly digital world. 
"We have to work hard to overcome stereotypes regarding our industry and what we do," Wilson says of her work at Google. "People label us a necessary evil, and they think of us as not having the best interests of our clients or users at the forefront. I try to alleviate that by just being honest and transparent."
With her predilection for hard work, Wilson blew through her undergraduate time at the University of Florida in three and a half years. "It was an accident; I never wanted to leave," Wilson insists, laughing. 
After working as an account executive at Aramark Uniform Services for nearly four years after college, Wilson decided to pursue her MBA. Through the Consortium for Graduate Students in Management, an organization that exists to promote diversity in senior corporate ranks, she found Darden.
"I fell in love with the community there," Wilson says. "The faculty, the administrative staff, the community of Charlottesville — I just felt like I was supposed to a part of it."
While at Darden, she interned at Johnson & Johnson, and ultimately spent nearly seven years in brand management for various J&J brands such as Bengay. The marketing experience there helped her further hone the analytical and strategic planning skills she learned at Darden, she says. 
Ultimately, those analytical skills helped her land an account executive job at Google, working directly with nonprofit clients despite having little digital experience at the time. Within eight months, she was promoted to lead Google's entire nonprofits vertical.
The Consortium asks its members to commit to fostering corporate diversity and inclusion after graduation. She served on Darden's admissions committee as a student at the School. At J&J, she led all diversity recruiting for MBAs in marketing roles. And at Google, she leads her business sector's diversity, equity and inclusion committee's hiring efforts. 
She has also poured that passion into serving on the Darden Dean's Diversity Advisory Council since 2015. In addition to helping Darden identify and recruit more diverse faculty and students, the council serves as a "sounding board" for minority students to raise concerns and issues.
"My experience at Darden was great. I think the School is special, and that we develop some of the best-in-class business folk," Wilson says. "I just want to do everything I can do to help make sure that more diverse people are exposed to this opportunity to go to Darden and have that great experience."