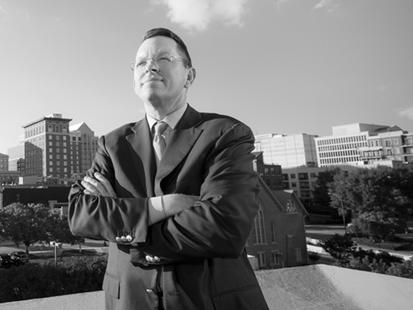 E. Mitchell Norville
MBA '84, Founder, Atlantic South Development Inc.
Industry
Entrepreneurship
From Packing Ice to Developing Properties, Hard Work Pays Off
Raised in a blue-collar family in Charleston, South Carolina, E. Mitchell Norville (MBA '84) began working odd jobs at age 14, including selling shoes and packing ice.
He learned at an early age the value of hard work and determination, and, in 1980, he became the first in his family to graduate from college.
After earning his bachelor's degree in engineering from Clemson University, Norville accepted a job with Exxon in Texas. Within the first six months, he started collecting MBA application forms and talking to people about graduate school. Although one former professor argued that earning an MBA was like getting a degree in "common sense," Norville applied to three business schools — the University of Virginia Darden School of Business, Harvard and North Carolina.
"In some respects, my professor was right," said Norville, who received his Darden acceptance letter shortly after marrying his high school sweetheart, Carla. "A lot of good business is about doing the right thing and not getting too caught up in theories and analyses."
Norville thought he wanted to build his own business after Darden. However, when he joined Boston Properties in 1984, he realized the small company offered him the entrepreneurial environment he desired and allowed him to explore his burgeoning interest in the real estate market.
Over the next 28 years, Norville played a crucial role in growing Boston Properties into one of the largest self-managed real estate investment trusts in the United States, with offices and properties across the country. During that time, he and Carla raised three children. When he retired in 2012 as chief operating officer, Boston Properties had leased more than 40 million square feet of office property and Norville led more than 700 employees.
Norville has supported Darden throughout the years and recently contributed to the Robert F. Bruner Dean's Fund for Faculty Excellence. "Philanthropy wasn't something I grew up with, but I know the value of giving back," he said.
Norville and his wife live in Greenville, South Carolina, where he recently realized his dream of becoming an entrepreneur when he founded a small real estate development company, Atlantic South Development Inc.