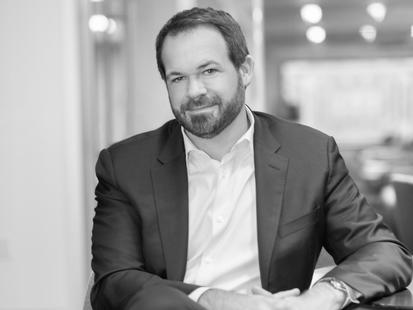 Eric Chewning
MBA '08, Partner and Co-lead, Aerospace & Defense Practice, McKinsey & Co.
Areas of Expertise
Management Consulting
In 2017, Eric Chewning (MBA '08) was a partner at McKinsey & Company when he left for the public sector, taking the role of deputy assistant secretary for industrial policy with the U.S. Department of Defense.
For someone who had spent the better part of the previous decade climbing the ranks of the consulting industry, first at Booz & Co. and then at McKinsey, Chewning said taking a leadership role in the department of defense felt like "winning the lottery," and a unique opportunity to apply his skill set for the benefit of the country.
It was also a natural extension of the interests and public service ethos that had powered Chewning's career since graduating from the University of Chicago with a bachelor's and master's in international relations and a thesis on economic sanctions and economic interdependence.  After starting his post-collegiate career as an investment banker at Morgan Stanley, Chewning left finance following the September 11 attacks and enlisted in the U.S. Army, where he served for four years.
"I'm very grateful for the opportunities this country affords everybody," Chewning, said of his decision to enlist in the military. "I think America is a force for good in the world, and I thought it was important to do what I believed to be the right thing."
In the Army, the banker turned intelligence officer said he was fortunate to be a part of a particularly innovative unit open to experimenting with new modes of operations; specifically, Chewning said there was greater emphasis on engagement with the Iraqi people, which, for an intelligence officer, meant "going out and drinking a lot of tea."

"In that environment, understanding the human terrain was critical" said Chewning. "So my job was to meet people, build relationships, and get to know what's going on in the community."
Chewning's experience in Iraq informed an article he coauthored upon his return arguing for greater embedding of U.S. forces within Iraqi communities and co-locating with indigenous Iraqi security forces. The article would eventually be credited with laying the groundwork for the "Surge" strategy led by General David Petraeus.
After the military, Chewning said an MBA was the obvious ticket to reacquaint himself with the business community. Darden's tightknit veteran community was a draw, as was the fact that his wife Lauren Chewning (MBA '04), now a senior vice president at Marriot International, had a positive experience just a few years prior. (Chewning notes that he watched his wife graduate via livestream from Baghdad.)
The themes from the Darden classrooms were ones with applicability in the consulting world, and later, with the U.S. Department of Defense.  Specifically, Chewning said he frequently sees effectiveness in his role in both the private and public sector relying on an ability to "frame ambiguity in a way where people can understand the core problem and the potential paths to resolution."
"How do you break down the problem?" said Chewning. "Which levers can you apply to address the issues and how do you galvanize people and resources to work in a coordinated way to solve it."
Chewning honed that professional orientation at Booz immediately after Darden, then McKinsey, where he rose to the rank of partner before pivoting to the public sector for two-and-a-half years beginning in 2017. As deputy assistant secretary for industrial policy, Chewning was in charge of ensuring the capabilities of the country's defense industrial base, essentially handling all geo-economic topics under the purview of the Pentagon. After over a year in the role, Chewning was tapped to serve as chief of staff for the U.S. Secretary of Defense, helping Secretary Patrick Shanahan and then Mark Esper navigate a complex and sprawling bureaucracy.
While the U.S. Department of Defense is unique, and has a particularly powerful cadre of stakeholders, Chewning said the challenges were often akin to those from any large company, from aligning the senior team to ensuring resources are being allocated to the highest priorities.
Certain aspects of the work, and the broad mandate to improve performance across a large organization, felt familiar from his consulting days, Chewning said. In both roles at the department, Chewning said his background enabled him to view challenges and opportunities through both an economic and national security lens.
"In today's world with increasing emphasis on geoeconomics, it's really important that we can transit between national security and economics and understand how instruments of national power translate to each other," said Chewning.
Now back at McKinsey serving as a co-lead of the firm's aerospace and defense practice, Chewning said he again views his role as helping corporate teams increase performance.
"I think our role is to bring that industrywide perspective and best practices from other contexts," said Chewning. "And, increasingly, teams appreciate the ability to bring a focus. You run into issues where there just isn't the managerial bandwidth or specialization to effectively tackle issues, and you need a group of trusted partners who can come in and bring that attention and expertise for impact."