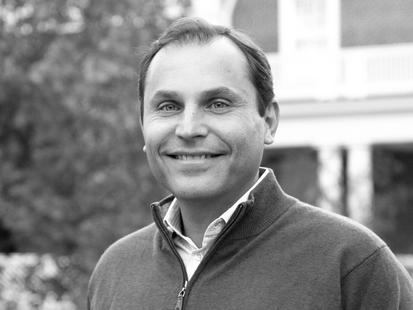 Fernando Mercé
MBA '98, CEO, Melissa & Doug LLC
Fernando Mercé (MBA '98) left a successful tenure as a senior executive with one of the world's largest consumer packaged goods companies in February 2020 to become CEO of a firm with a more niche group of consumers: Melissa & Doug LLC, a Connecticut-based toy manufacturer owned by private equity firm AEA Investors.
Most parents recognize Melissa & Doug as the company whose toys encourage play without computers, phones or other screen-based devices. 
Environmentally-conscious folks might recognize Melissa & Doug as the only major toy company that makes products primarily from wood and paper. In fact, earlier this year, the Forest Stewardship Council recognized one of Melissa & Doug's product lines for being sourced from responsibly managed forests. Mercé said the recognition reflects the fact that the environment has always been an essential component of the company's strategy.
To Mercé, who left his previous post as the CEO of Nestlé Waters North America, the company's purpose and its environmental stewardship were both essential to his decision to join Melissa & Doug. 
"It's a purpose-driven company, and AEA believes in that mission," he said. "I always get to know the investors or leadership behind a company when I'm looking at a new opportunity. When the people you're working with demonstrate a passion for doing what's right for humanity, then business discussions won't be about whether or not to do those things, but rather how we're going to do them."
While bottled water isn't generally an industry associated with environmental stewardship, Mercé used his broad-based educational background to steer Nestlé Waters North America toward a more sustainable path. 
An industrial engineer by training, Mercé's team was able to look at and help reimagine every step of the lifecycle of a plastic bottle. "For every bottle we sold, we aspired to collect and process another bottle," he said. "You need a functioning circular economy to get that done. You need to support collection, recycling and buyers of recycled plastic." 
The company became a leader in the design and implementation of fully recyclable bottles made from 100 percent recycled plastic (rPET), he said, using plastic, labels and glue that could be thrown into the existing recycling processes without contaminating the end product. 
"By the time I left, we were aggressively moving to record levels of rPET in all of our bottles," he said.
That holistic view was one of the things Mercé appreciated about his Darden experience, he said. "You can't specialize in your First Year. You have to study every business discipline. You have to understand finance, marketing, manufacturing, strategy and ethics, among others. And Darden was teaching business ethics long before it became part of the national conversation," he said. 
"Two months into the semester, you realize that the conversations you're having in finance, ethics and operations are tied together. For me, that realization highlighted the importance of understanding the whole end-to-end process of business."