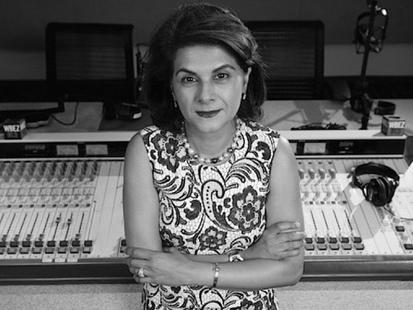 Goli Sheikholeslami
MBA '94, CEO, POLITICO Media Group
Industry
Government/Nonprofit
When Darden alumna Goli Sheikholeslami (MBA '94) ended a successful tenure as president and CEO of Chicago Public Media to become president and CEO of New York Public Radio, she was ready to embrace the challenge of leading a major media organization in the largest media market in the United States.
However, she — nor anyone else, for that matter — was expecting New York City to become the epicenter of the coronavirus pandemic mere months into her new role, turning New York Public Media into an even more essential source of information for the public than ever before.
Sheikholeslami shares why she made the move from one iconic media market to another, what it's like leading a new organization through an unprecedented crisis and why public radio plays a critical role serving society.
Note: Since publication of this Q&A, Sheikholeslami has taken the role of CEO of POLITICO Media Group.
What tipped the scales to make the move from Chicago Public Media to New York Public Radio?  
The opportunity to lead a large, vibrant and essential media organization in the city that I love more than any other (which also happens to be the No. 1 media market in the United States).
New York Public Radio has played an essential role keeping New Yorkers informed of critical information throughout the coronavirus pandemic. What has made you most proud of the organization's efforts?
The fact that we moved 400 people out of our offices and began broadcasting and publishing remotely from our homes in just a matter of days, and that we made this transition without any disruption in our programming or reporting. New York Public Radio covered 9/11, the New York City blackout and Hurricane Sandy, and even so, this was the greatest logistical challenge the organization has ever faced. I am in awe of our team for how they rose to the occasion, and for their fierce determination to provide this essential service under such trying circumstances.
Are there memories or lessons from Darden that helped you lead through the crisis?
I entered Darden after an early career in documentary filmmaking. My background and experience — professional and personal — was very different from those of my classmates. I was a bit of a "fish out of water." But Darden taught me how to push through when things were difficult, knowing that hard work and dedication would get you to the other side.
Chicago and New York are both iconic media markets with incredible journalistic legacies. What role does public radio have to uphold and advance those legacies?
Public radio has always played an essential role in providing access to fact-based, accurate news and information to the American people. Now, with the disappearance of local newspapers all across the country, public radio stations have become in many cases a city or town's sole local news outlet.
And a pandemic like COVID-19, where state and local governments are taking the lead in creating policies that make sense for their communities, demonstrates how crucial and even potentially lifesaving local news truly is.
Public radio has the best, and possibly only, business model that can support healthy, vibrant and sustainable local news operations. So it is our mandate and our responsibility to invest in and expand our news gathering capacity, and to continue to bring our communities free access to trusted news and information. A well-informed and engaged citizenry is, after all, the bedrock of our democracy.