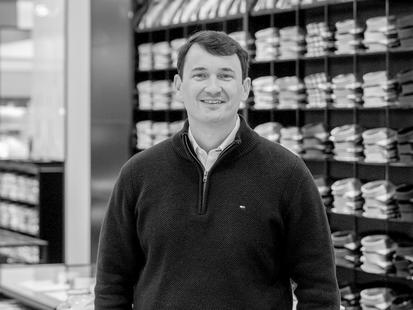 Hal Lawton
MBA '00, Former President, Macy's
Hal Lawton's (MBA '00) life must feel like a parade these days. 
The University of Virginia Darden School of Business alumnus was named president of Macy's in September 2017, and one of his top priorities after joining the iconic retailer was to meet fellow colleagues and travel to various store and office locations to get to know the company. 
The jump to Macy's also entailed a move to New York City from the San Francisco Bay Area, where he served as a senior vice president at eBay for two years. The rapid change all comes after a comparatively settled 15 years in the Atlanta area, moving up the ranks for five years at McKinsey & Co. and then 10 years at The Home Depot, where he led the company's online business to exponential growth.
Of course, his life literally became a parade in November during his first Macy's Thanksgiving Day Parade.
"I was blown away by the scale of the event," Lawton said. "I did not understand that Macy's puts on the entire show, including building the floats and balloons, arranging all the talent, and coordinating the event with NBC and the New York Police Department. It is the third most watched event of the year on TV, and millions of people line the streets to watch it in person. It was fun spending my first one with over 30 family and friends."
Lawton says he's passionate about the intersection of technology and retail. He said a key accomplishment at The Home Depot was embedding digital within the culture of the company, and he learned the importance of machines and running e-commerce at a massive scale at eBay — experiences he calls "complementary to the journey we have ahead at Macy's." 
"I am excited to see how we transform our customer experiences," Lawton said. "We have all the ingredients necessary to continue to be a leader in retail, but this will require continued adaptation and change. This includes more embracement of technology in-store, the transformation of our stores to be more experiential, and continued excellence at customer service and product authority."
Lawton gives Darden plenty of credit for his career success. He said he was born in a small town in Tennessee and worked in a smaller town in North Carolina before Darden. The School "opened my eyes to the larger world" through the class environment, his peers, executive speakers and professors. In particular, he said now-retired Professor John Colley and Professor Jacquie Doyle had a tremendous impact.
"They opened my mind to the art of the possible, pulled me into activities and pushed me to be better," he said. "I am eternally grateful."