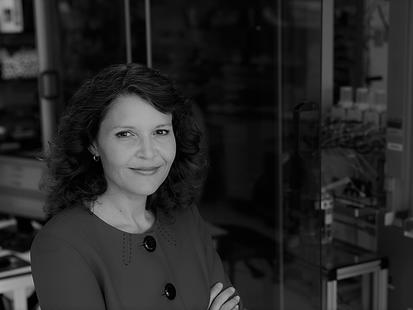 Helen Boudreau
MBA '93, COO, Bill & Melinda Gates Medical Research Institute
With more than 25 years of global experience in finance, strategy and operations within the pharmaceutical, commercial banking and consumer sectors, Helen Boudreau (MBA '93) is chief financial officer of FORMA Therapeutics, a privately held biotechnology company. Before joining FORMA, Boudreau held a variety of positions at Novartis Corporation, including CFO, responsible for treasury, tax, insurance, finance shared services, investor relations and financial management for all United States corporate entities. Previous to that role, she was vice president of investor relations and served as vice president and CFO for Novartis Oncology, a fully integrated global business unit with sales in excess of $10 billion. She received a Bachelor of Arts in economics from the University of Maryland.
Boudreau currently serves on Darden's Corporate Advisory Board. 

What was your first job?
I was a waitress at Pizza Hut. 

What's the best advice you have ever received? 
Network, network, network! 

Do you prefer numbers or words? 
Both. They each have their own magic. 

What motivates you? 
Having a positive impact. 

When and where do you do your best thinking? 
Early in the morning, anywhere quiet. 

What's your current state of mind? 
I'm excited to be in biotech! 

What are you reading these days? 
At the moment, it's mostly legal documents, presentation decks and CVs. 

What technology can you not live without? 
Electricity. I prefer to have power. Light and heat — just the basics. 

What's your motto? 
Be true to your values. 

How do you deal with conflict? 
I try to stay focused on the desired outcomes. 

What characteristics do you look for in people? 
Honesty, commitment, sound thinking and a sense of humor. 

What have you recently uploaded onto your iPod? 
I actually haven't seen it in a few years. I'm not a big fan of ear buds. 

How do you unwind? 
Walking, reading and watching movies. 

What is your idea of perfect happiness? 
Being with family and friends, and all of them enjoying good health. Those are gifts.
If you could live anywhere, where would it be? 
Virginia! 

What do you lose sleep over? 
People issues. 

Who's your favorite action hero? 
Groot. 

What's your favorite food and beverage? 
Dessert and red wine. 

Which class at Darden impacted you the most? 
I loved "Quantitative Analysis," but "Organizational Behavior" is the most useful in the long run. 

Describe a moment when you realized the true value of your Darden education. 
Darden was a life-changing experience for me — from what I learned and the people I met, to the doors it opened career-wise. The return on investment was and is enormous in every way.