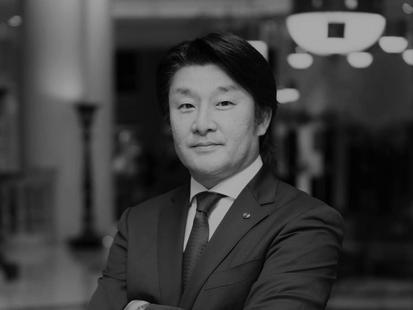 Isao Sekiguchi
MBA '04, President Director, Nissan Motor Indonesia
Isao Sekiguchi's (MBA '04) passion for learning more about other cultures began at a young age. Born and raised in a suburb of Tokyo, he moved with his family to New York City at age 11, without knowing how to write or speak a word of English. He joined a local Little League baseball team as a way blend into the American culture and lifestyle. His first lesson in culture shock came from winning a state title and being one game away from competing in the Little League World Series in 1984.  He learned one strong aspect of American culture: respect one who stands out with talent. This was contrary to what he was accustomed to in Japan where the common belief is, "a nail that stands will be hammered down," meaning if you do not conform to the rest of the group, you will eventually be made to do so. 
Today, Sekiguchi is the president director for Nissan Motor Indonesia, where he is responsible for developing business strategies and has oversight of a manufacturing plant in Indonesia.
Could you share a favorite memory or moment of growth from your time at darden?
One of my favorites was the learning team experience. Working one full year with people from around the globe with different backgrounds was fun and sometimes a challenge. I still find this experience to be a great asset.  Our group of six included Brian Wortinger (U.S. Army), Jose Gonzalez (an entrepreneur from Peru), Karun Tahilramani (a native of India, raised in New York City), Lindsay Guthrie, née Wilber, (a Harvard grad and the youngest of us all), Jeff Tolonen (an easy-going Californian) and me. Through this, I've learned:
Leadership is not necessarily about "leading" at all times. Listening and guiding is also a form of leadership.
Healthy confrontation is a plus (once you build trust among members).
Lots of laughs + a few beers = lifelong friends.
Two of my favorite professors were Jim Clawson and Alec Horniman. They delivered sessions on defining leadership and who you are. Through their sessions, I learned the importance of self-awareness and change leadership, which helped me create the foundation of who I am today, leading change in different parts of the world.
How would you define your leadership style? Has living and working abroad affected it?
I see myself as a change leader. This is not an easy task, especially when you are the only expatriate and "foreigner" in the company. Before I implement, I try to learn about not only the culture and people but also their values and behaviors.  For the first time at the age of 43, I was exposed to Arab countries, its people and culture. I needed to understand the country, culture, people, value, behavior, etc., so that I knew the key stakeholders well enough to make any changes. As I've lived in different continents over the years, it helped that I've already acquired skills in observing and understanding new cultures quickly.
What has living and working in five countries meant for you? Any surprises or lessons learned along the way?
Living in the U.S., in a melting pot like New York and New Jersey during my youth, built my foundation as a person to be fully engaged in cross-culture settings. Interacting with people from different races and religions opened my eyes. Later, my days in Germany and the Slovak Republic challenged and refreshed my global views. Finally, taking a leadership role with Nissan in Egypt was a breakthrough in fully accepting diversity. Not only have I been exposed to the Muslim culture in Egypt, but to all different nationalities in Nissan. My boss is Iranian-French. My colleagues working together at the regional management level are French, American, German, Indian-British, Pakistani, Indian, Chinese and Japanese.
Life and learning is a journey. The more exposure I have to different countries and cultures, the more I work on my own beliefs, values, personal biases, etc., increasing my self-awareness and new learning! During my time in Egypt, I was fortunate to have had opportunities to travel to countries such as the United Arab Emirates, Tunisia, Algeria, Morocco, Kenya, Jordan, South Africa and Mauritius. Embracing and respecting cultural differences is extremely fascinating! 
How did you become interested in the auto industry?
Straight after university, I joined one of the major five Japanese trading houses, Sumitomo Corp., in 1995. From day one, I was locked into the global automotive business. Numerous projects took me to countries including India, Pakistan, China, Iran and Turkey. I was dispatched to Germany to manage a car distribution business and to the Slovak Republic to manage three automotive companies as president.
After spending nearly 20 years with Sumitomo, it was time for me to move on. I joined Nissan Motor Corp. in 2014 to manage the company's North Africa operations across six countries, along with the production plant in Egypt. I have just completed my three-year assignment in Egypt. This year, I have been promoted to regional vice president of the Africa, Middle East and India (AMI) region to manage mid-term plans and alliance projects with Renault and Mitsubishi Motors at global headquarters in Japan.
The automotive industry is dynamic, probably more so than ever with emerging brands such as Tesla, and new technologies such as autonomous driving cars, electric vehicles. It is fascinating that no one knows what this industry would look like 10 years from now.
How has your Darden education helped you in your career?
Darden has helped me build a strong foundation as a global leader. My learning team provided a team-building experience in a diverse setting. The case method and classroom discussions taught me the tools, approach and process for decision making; the importance of resource management (people, cash, assets); and engagement through discussion and confrontation. Leadership sessions taught me the importance of self-awareness, change leadership and management, and making decisions at the right time (even when lacking clarity). All in all, my Darden education gave me the key ingredients to lead and manage companies in a global setting. 
What advice would you give to future global leaders?
Don't stop learning and trying. As has been the case for me and my family, please make learning a lifelong habit. Our learning process developed as we worked and lived in different countries. We learn and upgrade our "operating system." Somehow, the world is getting more complex, even though it should be the other way around with all the technologies we have today. We, as leaders and managers, need to be able to manage diverse groups of people with increasing complexities and make decisions faster than ever. Constantly increase your self-awareness. Every day is a learning opportunity and do not allow yourself to be complacent.