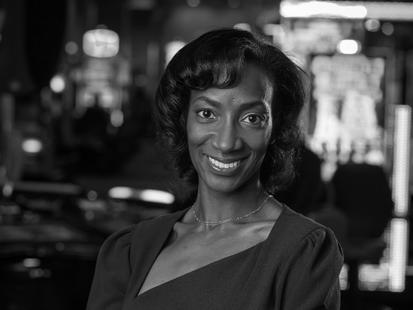 Jacqueline Grace
MBA '10, General Manager, Caesars Tropicana Atlantic City Resort & Casino
Jacqueline Grace (MBA '10) was named general manager of Caesars Entertainment's Tropicana Atlantic City Resort & Casino in September, she became the second Black woman to lead an Atlantic City casino. She's also likely the first resort GM, of any gender or race, who could build a slot machine in a pinch.
The native New Yorker holds a bachelor's in electrical engineering from Stony Brook University but quickly pivoted to operations and human resources leadership roles before and after attending Darden.
"I studied electrical engineering because I wanted to learn how to build computers. Once I knew how, I didn't want to do that anymore," she says. "What really jazzed me was leading and organizing people and having an impact on them."
Although she has spent her entire career working at just two companies — Merrill Lynch and Caesars — her wide array of technical, human and business skills has allowed her to skip between different roles at a pace matched only by the clip at which she speaks. Fast. Very fast.
"I change jobs every year, on average, but for the most part, all of them have been a matter of me being tapped on the shoulder to do this different thing," she says. On her blog, NotAboutJackie.com, she often muses about the challenges of juggling her career, marriage and two small children, calling herself the "chief engineer of the Hot Mess Express, trying to figure out how to 'do life better' while encouraging others to do the same."
The pace came to a startling halt in March 2020, when virtually the entire hospitality industry was forced to close doors at the onset of the coronavirus pandemic. 
At the time, she was the assistant GM of Caesars' Horseshoe Baltimore Casino, and she knew she would be overseeing devastating job losses among some of the most economically vulnerable people in the country.
"I wanted to be in the people business, and it suddenly became glaringly obvious just how much of a people business it was," she says. "My first thought was, 'Oh my goodness, I have hundreds of team members who are going to be out of work.'"
To clear her head and calm her fears, she focused on exercising, meditating and journaling. "Particularly during those 90 or 95 days we were closed, that was what sustained me emotionally, mentally and spiritually," she says.
Meanwhile, her husband, an essential worker, continued working outside the home while Grace managed homeschooling and focused on protecting her kids' own emotional well-being.
From home, she worked on staffing and reopening plans and all the attendant logistics involved in remaking how the business would operate in the new environment. 
Caesars provided full pay to furloughed workers to help bridge the gap for a few weeks until unemployment compensation kicked in, she said, and also closed the gap between wages and tips for those reliant on tips. The company also extended health coverage to those who have not yet been recalled, and it organized and contributed to an employee assistance fund.
Through all of that, Grace was promoted to the Atlantic City GM job on 16 September 2020, with new and unforeseen challenges in a new city and what had become, essentially, a new industry.