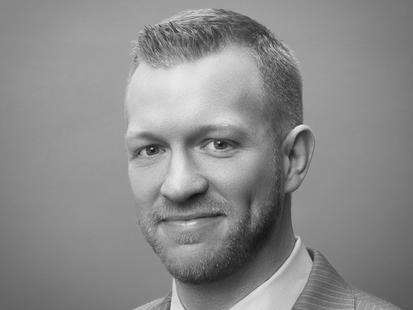 Jake Burns
MBA '07, Executive Vice President of Business Operations, Washington Nationals
On Halloween night in 2019, Washington, D.C., erupted in celebration as the Washington Nationals won their first Major League Baseball World Series. It was a remarkable turnaround for an underdog team that in May — struggling early in the season and overshadowed by powerhouse teams such as the Atlanta Braves, Los Angeles Dodgers, Houston Astros and New York Yankees — was given a 0.1 percent chance of winning it all.
There was one man at Nationals Park on that incredible night who was especially jubilant: Executive Vice President of Business Operations Jake Burns (MBA '07), who is not only a die-hard Nats fan but also oversees revenue and marketing, including ticket sales and game-day entertainment for the club.
"A winning team is a more valuable team, a more sought-after team," said the Darden School alumnus.
But attracting fans to the ballpark when the sports industry is being disrupted by technology is no easy feat. "The at-home viewing experience is becoming more attractive," said Burns, citing big-screen TVs, cheaper beer and food. But he is adamant that the atmosphere, the crowd, the spectacle cannot be replicated at home.
Yet with the Nats playing 80-plus home games each season, fan fatigue is a real danger. Baseball games are also lengthy (around three hours, on average), and the sport competes with a myriad of other attractions in the vibrant D.C. entertainment scene.
To keep fans coming back for more, Burns puts on what he says "amounts to a party the size of Charlottesville" at each home game for some 40,000 fans. The stadium experience is becoming more interactive and engaging, enabled by technology. One example is a virtual reality game where fans try to hit home runs using a bat.  
In an initiative with Coca-Cola, Burns has also brought into the park a Pepper robot designed by Japan's Softbank Robotics that can interact with fans, sharing information on Nats players.
"We are constantly looking for new ways to innovate and enhance the park experience," he said. "We are creating memories, in an age where people want the Instagram pictures."
Burns has also looked to build up a fan base for the future, introducing a free kids meal to members of the Jr. Nationals Kids Club at home games last summer. He said kids club membership ballooned from 6,000 to more than 18,000.
Burns himself is a huge sports fan and had long dreamed of working in the industry. In fact, that was why he pursued an MBA at Darden — to marry business skills with his undergraduate engineering degree, also from UVA.
"I went back to UVA and wrote all of my essays with the sole purpose of making my transition out of engineering and into sports," said Burns, who did a summer internship after his First Year at Darden with the National Basketball Association.
However, after graduation, he took a well-paid job in the consulting industry. "The demand for jobs in sports is high and the supply of jobs low, so teams get away with paying less for talent," Burns said, though in executive positions pay starts to converge with consulting.
He ended up staying in consulting for more than a decade, including an eight-year stint at Booz Allen Hamilton. "I loved the people I worked with, the work was very challenging, and I was able to create a nice career path for myself," said Burns. "But in the back of my mind, I always wanted to work in sports."
A recruiter headhunted him for a position with the Nats, running corporate partnerships under the guidance of Valerie Camillo (MBA '00), the Darden alumna who then served as the club's chief revenue and marketing officer and who has worked within the NBA, MLB and now the National Hockey League with the Philadelphia Flyers.
The connection helped him secure the Nats job, as Camillo understood how the Darden MBA prepares future leaders to take on executive roles.
"The case study method helped me be more willing to engage in conversation and share my opinion," he said. "That's incredibly important in this role, in which I have to collaborate across a number of different business lines and combine a bunch of perspectives to deliver a first-class entertainment experience."
Camillo became his mentor. "She was phenomenal, not just in providing industry knowledge. She's also extremely media savvy — everything we do is scrutinized by the media — and understands how it helps us accomplish business objectives, helping us promote the team, sell tickets."