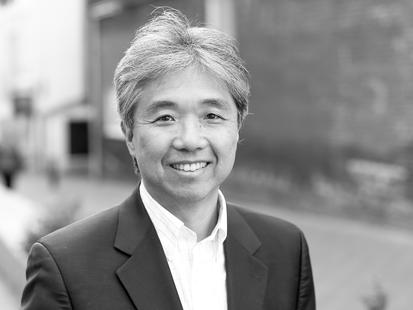 James Su-Ting Cheng
MBA '87, Chief Balancing Officer
Industry
Entrepreneurship
James Su-Ting Cheng (MBA '87), an angel investor and entrepreneur with more than 20 years of experience in information technology and government contracting, has adopted another title according to his LinkedIn profile: Chief Balancing Officer.
"I'm trying not to do everything all at once," he said of his responsibilities.
Cheng and his wife, Jeanette Wang, are raising their first child, 3-year-old Joshua. In addition to fatherhood, Cheng juggles five part-time jobs, ranging from advisor to investor to adjunct professor. "I get a little of everything," he said. "I am very fortunate that I don't have to have just one job."
From 2010 until 2014, Cheng worked as Virginia's secretary of commerce and trade, managing 13 agencies, including economic development, export, tourism, small business, housing, mining and energy.
Cheng never imagined he would go into politics as a computer science major from Old Dominion University. "I was always a tech guy," he said. After graduation, he joined his father's company, and in 1994, decided to create his own firm. Cheng grew Computer & Hi-tech Management Inc. from five employees to 550 employees, with annual revenues skyrocketing from $300,000 to $90 million by the time he sold it 11 years later.
The key to entrepreneurship, as Cheng tells his students, is to solve a pain point. "It might be something they don't even know exists," he said. As technology advances, Cheng is confident that it will enable all of us to achieve more balance in our lives. "I am always looking for the next greatest thing," he said. "Balance is it."
Cheng says the skills he gained at the University of Virginia Darden School of Business have been the cornerstone of his success, so it only seemed right to him to create the $1 million James Su-Ting and Jeannette Wang Cheng Scholarship Fund to support students from East Asia.
A Principal Donor who served on the Darden School Foundation Board of Trustees from 2008 until the summer of 2015, Cheng lives in Charlottesville with his wife and son. He is currently working on a new angel fund for University of Virginia alumni called CAV Angels.