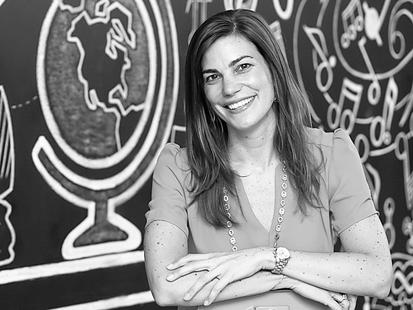 Katie Bisbee
MBA '04, Chief Marketing Officer, DonorsChoose.org
Industry
Government/Nonprofit
Marketing With a Big Heart
At the age of five, Katie Bisbee (MBA '04) was serving meals at soup kitchens with her family. "Social impact has always been in the forefront of my mind. My parents taught me that is how you should live your life," she said. This sentiment has stayed with Bisbee, who turned her passion for helping other into a career.
She was several years out of college when she started working at a nonprofit and quickly realized her limiting factor. "I figured if I wanted to make an impact in the social sector, I had to have a really strong business grounding," she explains. She promptly applied and was accepted to Darden.
As a First Year student, Bisbee worried that her class contributions were subpar, but she quickly began to notice the opposite: Her nontraditional background as a marketer actually added value to the classroom dynamic. "I think I offered a fresh set of eyes that were helpful for my classmates. I asked questions other people probably wouldn't think to ask because they knew the material so well," she recalls.
A "very proud member of Section A," Bisbee was reticent to leave Darden's idyllic Grounds, but enthusiastic to apply what she learned to her next job. She entered the corporate world and worked for a home furnishings company for a year before she decided to launch a business within Red Ventures, a customer acquisition firm that was ranked on the Inc. 500 list as one of the nation's top 20 fastest growing companies.
"I would recommend spending some time in the corporate world after B-school," Bisbee said, noting that her experience broadened her skill set, though it also reminded her how much she enjoyed working in the nonprofit arena. 
A Crowdsourcing Charity to Meet Teachers' Needs
After Bisbee left Red Ventures, she returned to the social sector to join DonorsChoose.org, a nonprofit that connects donors with teachers who need classroom supplies and funding, as CMO. She educates teachers about how to raise funds on the organization's website, launched 14 years ago by a former public school teacher before online crowdsourcing was popular.
Bisbee also introduces new donors to the concept of the nonprofit: Anyone can donate any amount of money to fund projects posted by teachers. During her tenure, she has successfully engaged more than 2 million donors and teachers to support public school classrooms across America.
When she's not busy with her marketing responsibilities for DonorsChoose.org, Bisbee spends her time mentoring young millennials — many of whom are women — at her organization. "When they need to ask for promotions or resources, I'm available," she said. "It's not an official part of my job, but I love doing it."
Giving back is not something Bisbee thinks about consciously. She just does it, organically and from the heart.
Making Room for the Millennials
When DonorsChoose.org relocated to the garment district of Manhattan last year, the new space was based on an open floor plan design. Bisbee affectionately describes the office as "part tech startup hub, part schoolhouse." In the center is the classroom, with two dozen white desks and chairs surrounded by a series of chalkboard walls decorated by a local sidewalk artist. 
The rest of the space is full of long, communal wooden tables that employees and executives share. Bisbee and Charles Best, the company's founder and CEO, sit side-by-side with their team members. The company consensus is that the arrangement creates a supportive, friendly work culture.
"With this setup, you have to get to know each other personally, and that's what the millennial generation wants," said Bisbee, though she admits that transitioning from structured office space to an open floor plan was a big adjustment. "This generation has opinions, and they want to be heard," observes Bisbee, who views the millennial workforce as an opportunity rather than a challenge. She even created an open staff listserv for her employees to submit creative concepts to the organization.
"Some of our greatest ideas have come from people a year out of college on the operations team with suggestions for a marketing campaign," Bisbee said, noting that harnessing the next generation's energy through the right system can benefit companies immensely.
When Gratitude Adds Up
On average, 70 percent of DonorsChoose.org projects, which range "from pencils for poetry to microscopes for mitochondria," are funded. No matter the size of the donation, however, every contributor is personally acknowledged. "Even if someone gives $5, they get a thank you from a teacher," Bisbee said. "The teachers love teaching gratitude to their students when they're writing letters, and we love thanking our donors."
Under Bisbee's direction, DonorsChoose.org has perfected the art of expressing appreciation. One fourth of the organization's space is reserved for teachers who come by after school to craft thoughtful thank you notes. Supplied with brightly colored paper and pencils, they write stacks of original letters that the nonprofit then mails to contributors.
"Some people say we shouldn't have to exist," she remarks. "And I agree with that. We shouldn't have to, but given that teachers on average are spending between $400 and $1,000 on supplies each year, they won't get the supplies they need unless we're around."
"We're like an entrepreneurial startup with a really big heart," said Bisbee. "We care so much about public school teachers." DonorsChoose.org is working to creatively fulfill its mission, thanks in large part to Bisbee's dedication and enthusiasm.