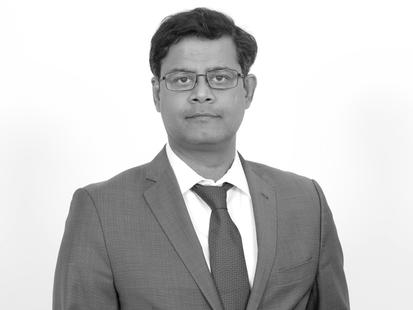 Kiran Raghavapudi
MBA '06, Senior Director, Simon-Kucher & Partners
Consultant Positions People and Companies Around the World to Thrive
What do the BlackBerry and Amazon Fire phone have in common? What is different about Apple's iPhone?
Business for the first two products was destroyed by mispricing, while Apple's iPhone has shown the power and reach of pricing strategy, according to Darden alumnus, management consultant and pricing expert Kiran Raghavapudi (MBA '06).
"When businesses try to win by cutting costs and trading price for volume, it's not sustainable and eventually they will fail," Raghavapudi said from his home in downtown Singapore. "Instead, they should begin with, 'What is the customer's willingness to pay?' and 'What is the value of the product or service offered to customers?'"
Raghavapudi's foray into the pricing world began with McKinsey & Co. in the United States after graduating from Darden's MBA program. As a pricing expert at McKinsey, he advised several B2B companies around the world.  He recently joined a niche pricing firm, Simon-Kucher & Partners.
Pricing questions are Raghavapudi's everyday raison d'etre as he heads up the chemical industry practice for Simon-Kucher in Asia. Currently based in Singapore, he travels across the region. He says pricing is "80 percent science and 20 percent art," and he advises a full range of companies on their pricing and commercial strategy.
"There is the go-to-market strategy, there is pricing strategy and there is sales strategy. They're all complicated issues in their own different ways, but pricing is the one that has the biggest impact on the bottom line – if they do it right. Companies need to get it right. Once price is set, it is very hard to increase later."
Management consulting is demanding work with constant travel and late nights, Raghavapudi admits, but he finds the rewards to be worth the investment.
"To me, consulting is like play, similar to putting a jigsaw puzzle together. It doesn't feel like work," he says. "Being in a position to help people and companies thrive is an extremely satisfying experience for me."
Raghavapudi's post-Darden career has given him the opportunity to live in 12 different countries so far. He has helped to build and improve companies across the world, from London and New York to Bangalore and Shanghai.
He has savored the experience of living in all of them — from the serenity and modernity of Tokyo, to the fascinating "time capsule" that is Shanghai, to the open-mindedness of Bangkok and the "amazing entrepreneurial spirit" in Bangalore.
"I find people to be more similar than dissimilar anywhere in the world. I think we should focus on the commonalities, while accepting the differences," he says. Being exposed to the broad and inclusive community at Darden helped prepare him for the diversity he would encounter in the world.
After graduating with a degree in chemical engineering from a university in India, Raghavapudi moved to the U.S. at age 21 to work as a technology consultant. When he decided to transition to management consulting, he targeted Darden because of its case-method approach, its smaller class size and its reputation for excellence in classroom teaching.
"More often than not, clients come with a lengthy charter of problems, looking for revenue or margin improvement. It is tricky to prioritize and identify the most important and underlying problems," Kiran says. "Our craftsmanship comes from first laying down a framework, then interpreting the problem and steadily moving towards a solution. A lot of this approach comes from the case method."
Darden's case-method learning was demanding, but he treasured the camaraderie and strong support he felt from professors and fellow students alike, he says.
"The professors lead by example," he said. "One day, one of my professors walked in, asked everyone to stand up and put our name cards face down. She then recited each and every one of our names from memory. That showed us she genuinely cared. That said, 'I'm giving my best, and I think you should do the same.'"
It's one of the reasons the Darden experience and community will live long in his own memory. While working in London, he served as the president of the U.K. alumni chapter, and he makes an effort to meet up with other alumni in every city he visits.
"Darden was genuinely the best two years of my life," Kiran says. "It ended too soon."