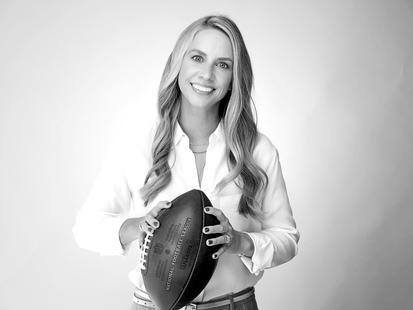 Leslie Ladd Kime
EMBA '20, Founder, LLK Consulting
Areas of Expertise
Entrepreneurship, Consulting
Moving the Ball Down the Field for Women in Sports
Starting a sports consulting firm in February 2020 easily could have backfired. For Leslie Ladd Kime (EMBA'20), it was the perfect time to take the leap. 
The Lexington, Kentucky, native learned to love football as soon as she could walk. "I grew up accompanying my father to games at the University of Kentucky," she remembers. "That's where my passion took root." An undergraduate internship with the Houston Texans confirmed her longstanding interest in working for the NFL, and she spent eight years scouting for the Jacksonville Jaguars. 
Ladd's unflagging enthusiasm for evaluating talent and building teams propelled her forward in a heavily male-dominated industry, but she couldn't ignore the barriers that persisted. "When I started, there were only a handful of women in the league," she says. "I definitely wasn't naïve about the fact that I needed an advantage." To that end, she decided to pursue an Executive MBA (EMBA) at Darden. "What appealed to me about Darden was that there was no 'MBA lite,'" she says. "I had to take the same rigorous classes with the same professors as a Full-Time MBA student."
While she entered the program intending to climb the NFL ladder, she emerged with a vision for creating her own firm, LLK Consulting. "I had some tunnel vision before Darden," she says, "but my EMBA experience opened my eyes to the endless possibilities on the horizon." 
When the pandemic hit, Ladd paired her NFL experience with her Executive MBA skillset to manage a $47 million contract for the Southeastern Conference (SEC)'s return-to-play COVID-19 initiative. For the next year and a half, she oversaw the distribution of nearly 200,000 COVID-19 tests and worked closely with teams to handle outbreaks. "I was a small part of a big win for the SEC," she says. 
Ladd credits her time at Darden with imparting the mindset and skills she needed to tackle a daunting first project as a solo practitioner. "In football, everyone is fairly similar in professional background," she says. "The opportunity to learn strategy and management techniques alongside high-level executives from a variety of industries expanded my range. Without my EMBA, managing that SEC contract would have gone very differently." As she closes out the contract, Ladd looks forward to helping more collegiate and professional football programs build cultures and strategies that support successful teams. 
While Ladd's star is rising within her industry, she acknowledges the glass ceiling that remains intact at workplaces like the NFL. The NFL has made considerable strides in hiring more women over the past decade, but it has yet to hire a woman for a general manager or director-level role. "Whether I return to the NFL or land somewhere entirely unexpected, I want to be part of the effort to move the ball down the field, a few yards at a time," she says. "There is still work to be done."