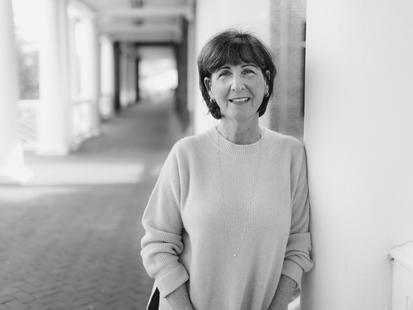 Liz Lynch
MBA '84, Senior Managing Director, Evercore
Leadership : It Runs in the Family
While she didn't realize it at the time, looking back, Liz Lynch (MBA '84) says Darden set her on a path for leadership opportunities.
Having spent two years as an investment banking analyst, Lynch came to Darden with her fiancé and was a leader waiting to flourish. Following her two years at the School, she embarked on a 22-year career with Morgan Stanley — the first 11 as an investment banker before serving as global head of human resources and then global chief operating officer for the Equity Research business. As she progressed, Lynch was increasingly asked to create and drive a vision while managing and motivating a team. 
Motherhood called upon some of the same skills honed at Darden that Lynch used in her career, including efficiency and prioritization.
"I have been a working mother for 30 years, and the demands on my time, not to mention the emotional ups and downs, make for a stress level that I have always had to manage. Darden taught me how to think about time and how to maximize on many fronts all at the same time. Darden was the beginning of my learning how to take care of what is most important to me and to my family, while finding a way to manage my own as well as others' expectations of me."
With her husband graduating in the same class, their daughter a member of the Class of 2017 and their son a rising Second Year, Lynch has additional reference points for the power of the Darden experience.
Each family member's Darden trajectory is personal and individual, Lynch says, but there are consistent themes around perspective, acumen and the strengths that rise from Darden's purposefully intense learning experience.
"At Darden, you assess yourself at every turn. In having such an intense experience, both academically and personally, it transforms you both as a person and through skill development. The experiences of our family members span almost 40 years, and each one is a very powerful, life-changing one!"
At the center of the experience, Lynch says, are the Darden faculty members who serve as the cultural heart of the School. "The faculty is excellent and so very committed. And, I would argue, more student-focused than at any other MBA program. It is these factors that differentiate Darden and help create its competitive edge."
For Lynch, her leadership continues to benefit the finance industry and the Darden School. She currently serves as the senior managing director and head of the Human Capital Group at Evercore, one of the world's fastest-growing independent investment banking advisory firms. She is also a trustee for the Darden School Foundation and a vice chair for Darden's upcoming Powered by Purpose campaign.